Featured designers and stunning statement pieces!
Nina Nguyen
Nina Nguyen Designs jewelry helps a woman define her own style with intricate, colorful, and artistic creations. Each piece is carefully designed by Nina in her Colorado studio and expertly handcrafted by skilled artisans in Nina Nguyen Designs' very own Women's Co-Operative, Nina Nguyen Studio
The women employed at our Co-Op are given professional training both for their work and also in life skills. With higher-than-average wages and full benefits for the employees as well as education for their children, we hold the same high standards for their work conditions as we do for the beauty and quality of our products.
The women of the Co-Op find their work rewarding and their lives enriched by their career choices. Empowered by these opportunities, they are making better lives for themselves and their families. Nina Nguyen Designs is evolving to embrace earth-conscious materials. Inspired by organic gemstones, her current collection's focus is on the fossilized and mineralized stones that slowly develop through the planet's natural processes. Currently her favorite raw materials are geodes, stalactites and fossilized ammonites.
 Shop our selection of Nina Nguyen in our Online Gallery
Nina Nguyen Photo Gallery
Steven Ruse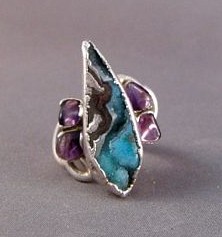 Steven Ruse is a California artist who has developed a unique style of jewelry making that enables him to use many different kinds of gems, minerals, and ancient ivory from around the world.  Every piece of Steven Ruse Jewelry is one of a kind and made by the artist and his apprentice.
Steven Ruse uses only fine silver in all his creations.  It is more durable and resistant to tarnish than sterling silver.  His design is also instantly recognizable, as it is quite different than traditional jewelry.  Using his own technique he arranges the stones first into their desired configurations and then adds silver and gold to the design.  Steven Ruse jewelry can be found in galleries and stores throughout the world.
 Shop Steven Ruse rings in our Online Gallery
Steven Ruse Photo Gallery
 Statement Jewelry Photo Gallery