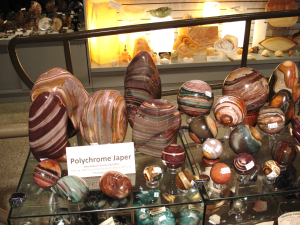 Wow, you should see this new Polychrome Jasper that we have in the store!  It's so different than other varieties of it.  We've been calling it "Ribbon Polychrome" because of the multi-colored banding.
It's got so much of that beautiful earthy purple color that I love and even goes into teal sometimes.  Very cool.
Here is what our darling "Rock Nerd", Christopher Lee Matthews, says about Polychrome Jasper:
Polychrome Jasper (Madagascar): A multicolored jasper from Madagascar that has circular, eye shaped, or figurative patterning.  Metaphysically associated with the wisdom of nature, connecting with the land, personal, psychic, and spiritual development, and determining the metaphysical properties of materials like stones; abundance, acquiring elemental resources for manifestation, and personal support inspiration, releasing blocks to the creative process, and the spiritual use of images, writing, and symbols, like Reiki.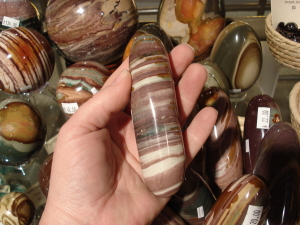 I think I'm most fond of the massage wands made from this material because they are authentically useful for rolling around the muscles and the nifty banding suggests that it helps getting through layers and layers of stuff.
I likey.
If you would like to read more about the metaphysical meaning and properties, you can click here.