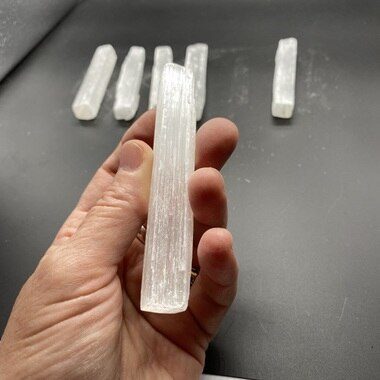 He Said: Selenite
Written by Christopher Lee Matthews
Selenite is a common name for the mineral gypsum. Historically it was only used for transparent crystals and the white fibrous variety was called satin spar instead. (Since the latter was also used for fibrous calcite and aragonite, scientific sources use the name as a prefix instead. This material is labeled satin spar gypsum.)  Pieces may be chatoyant because its structure reflects light like satin. The name selenite is derived from the Greek selenites lithos ("moon stone"), after a stone in folklore said to change its appearance as the moon waxed and waned.
Gypsum is composed of calcium sulfate dihydrate, a compound of calcium, sulfur, oxygen, and water.  It is an evaporate mineral.  As marine water evaporates, its dissolved salts begin to form minerals.  Gypsum develops when about 20% of the original volume of water remains and halite (table salt) around 10%.  The largest gypsum deposits formed during the Permian (298 – 251 million years ago) and Triassic Periods (251 – 201 million years ago), as vast shallow seas dried up.
Many metaphysical sources associate selenite with cleansing because of its white color.  This energetic signature is further represented by its connection to prehistoric seas.  Just as salt water is used cross culturally to purify, selenite may be used to clear heavy energies around people, places, and objects.  Its chemical formula even contains two water molecules for each molecule of calcium sulfate.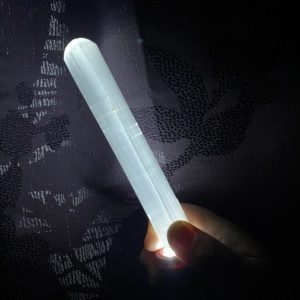 The fibrous crystals of satin spar gypsum can physically transmit light through internal reflection like a fiber optic cable.  They may even be clear enough to transfer an image of things below them to their surface as a "television rock" like ulexite.  Since light is a common metaphor for spiritual energy, selenite is a popular tool in energy work for tracing Reiki symbols, balancing chakras and nadi currents, and activating crystal grids.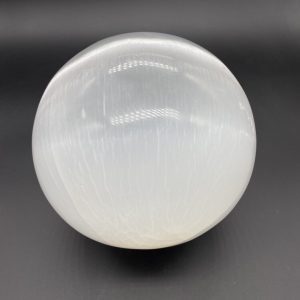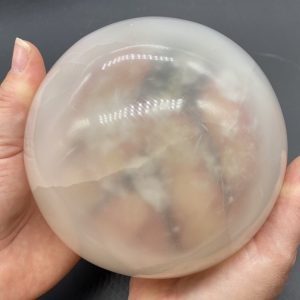 Not only is it named after the moon, selenite spheres may resemble it.  Polished pieces may display chatoyancy, a moving line of light, across their surfaces.  Both lunar and chatoyant materials are traditionally associated with intuition, psychic and spiritual development, and protection through observation.
She Said: Selenite
Written by Stacie Coller
I consider satin spar selenite one of the most useful and important mineral kingdom players on the market today.  There are some crystals that are very useful because they have a very specific vibrational theme, which can be used as a tuning fork for adjusting our own fields in some necessary way.  For example, rose quartz is a tuning fork for love energy.  It's specific.  Selenite doesn't have a specific theme.  It's vibrational range is vast without being a particular 'flavor'.
Selenite is more of a "technical worker".  White light energy is the whole she-bang, right?  Whatever the specific vibration you want as a tuning agent for your support is going to be in alignment with selenite unless you dwell in darkness and are being a jerk with your energy work.  Dig me?  Selenite plays well with any other specific energy because white light contains all other colors within it.  This means it can be used in any energy work that benefits from "directing" any kind of energy through or into a specific path, system, or intention.  In other words, it makes everything else better.  It also makes one of the best no frills "wands" out there.  Sure, you can find something more fancy that directs energy… but it won't be better at directing energy than a rough selenite wand that costs $3.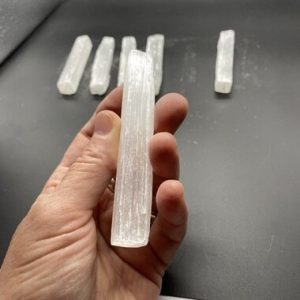 Christopher said above how selenite is associated with cleansing and protection, but it doesn't really "do" those things like other stones might.  Selenite is protective because it sets a tone in the environment that is bright and high vibrational.  Things that are lower vibrational don't hang out in high vibrational environments.  It cleanses for the same reason.  When the lights get turned on directly overhead, there are no shadows.  It aligns white light to you in a similar way.  It's protective because it puts you in alignment and flow with light.  It's cleansing because it puts you in alignment and flow with light.  Whatever is not in alignment and flow with light–and doesn't want to be–is going to skedattle.
What makes this crystal so exciting to me as a worker is that it is both ridiculously useful and very. dang. affordable.  Selenite is not at all going to break your bank.  A larger lamp may be so heavy that the shipping would be cost prohibitive, but the material itself is one of the most affordable out there in Rock World.  Save heavy stuff for in-person purchases, but otherwise, selenite is pretty safe to purchase on-line.  There are no imitations to selenite that you can be tricked into from unscrupulous sellers.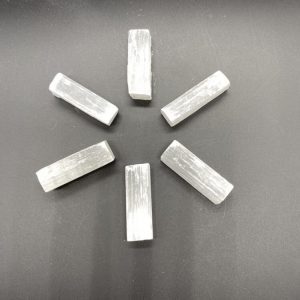 Selenite and Crystal Grids
If you do any kind of crystal gridding, you are going to want to have plenty of selenite around you to work.  Not only do I prefer a selenite wand to a crystal point when I am activating grids, but I can add 6-12 small selenite sticks to ANY crystal grid to make them better.
This is what I mean by selenite being a good "technical worker".  Crystal grids are basically toroidal energy fields created by the sacred geometry of the "Flower of Life" and colored by the vibration of the crystals that have constructed them.  Crystal Grid energies move in multiple directions.  Movement directed to the center creates a highly defined central vortex.  Movement directed outward, or away from the center, increases the size of the overall field and, therefore, the scope of the possible influence of the vibrations being featured.  Since selenite's fibers are aligned in two directions, the energies move equally in both of those directions.
Much like a double terminated quartz in a crystal grid, selenite supports a strong centeral vortex as well as supporting a large overall energy field of the full system.  Selenite, however, doesn't have stored or imbedded data/information like quartz may have.  It's vibrational range is vast, but neutral.  It makes the crystal grid better, stronger, and faster without changing the theme that the grid is trying to set up and deliver.
Selenite as a center stone, such as one of the free standing "mountains", or even a disk like shape whose fibers align sky to ground, will create a tight beam of light at the vortex middle that pushes the energy of the rocks in the crystal grid into a double fountain movement of up and down.  That makes it very useful if you want to use the vortex of the crystal grid to interact with other vortex structured fields, such as chakras and the central column of light that goes up the spine.  Again, because selenite doesn't change the theme, it is the perfect neutral "technical worker" to enhance the crystal grids ability to interact with and assist to shift the human energy field.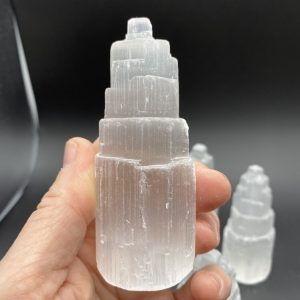 I have been creating "vortex disks" for over a year now that capture a crystal grid in resin so that the toroidal energy field continues to generate without disruption.  I put selenite in almost all of them because of their superior technical support.  I've been working with crystal grids for over 20 years and have learned a thing or two about what makes them tick and what makes them powerful.  Selenite is my main go-to ingredient, even before I have decided on a particular theme.  I find selenite THAT important to crystal gridding.
Selenite and Reiki
Selenite is an excellent tool for anyone that practices Reiki, or any form of directed, hands-on energy healing modality.  Selenite is like light and the fiber optics that move that light.  As a Reiki practitioner, selenite can be used to direct the energy emitting from the palms of the hands to more specific areas of need.  To do this at full potency, you should place one end of a selenite wand squarely against the palm of your hand while you are channeling Reiki energy. This effectively creates a one direction flow of light from your palms to the intended receiver.  If you scan and find a blockage, you can use the selenite to do more directed "blasts".
Larger selenite wands are especially useful to work on the spine and the interactivity between the chakras.  In this instance, you place the wand over the spine and place your hands anywhere on the wand without placing them over the end.  When you do it that way, the light blasts out in both directions, up and down the spine.  It creates an alignment and flow with light energy through the whole central energy system of the body.  It helps to clear out places of stagnation and lack of flow in that area.  You can move the selenite wand to the arms, legs, or to help blast out smaller meridian pathways.
Selenite and the Bedroom
Not because it's like a blue pill, mind you, but selenite is one of the most popular stones placed in or around the bed.  I personally have a great, big, honking selenite log (aka "book") directly under my bed in alignment with my body as I sleep.  Since selenite is associated with moon energy, it has a natural affinity to the night, even though it is a "light" stone.  Since it has energy moving and aligning properties, hence protection and clearing properties, I find it an excellent stone to have in the immediate environment of sleeping.  Either put one under where your sleep or next to it.  A sweet selenite lamp might be perfect to give both ambient light as well as to sweeten the full sacred space.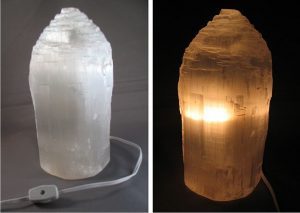 Selenite and Jewelry
It's super soft, selenite.  It makes poor jewelry because of that.  However, earrings or a pendant can be successfully used if you don't throw yourself up against a wall very often and don't forget to take it off before going into the shower.  I saw some beautiful selenite pendants in Tucson this past year that I thought would be perfect for personal energy field support.  Just be somewhat careful.  Wear it when you go out instead of never taking it off.  Understand up front that it will likely break, dull, or splinter at some point… and way faster if you aren't careful.  So go easy on your budget with selenite jewelry.   It's got a shelf life in that format.
Don't Use Selenite For…
Selenite has some caveats.  It degrades in water so don't use it in contact gem elixirs, baths, or in any instance where it sits in fluid.  It's not going to dissolve as fast as straight up salt, but it will degrade and crumble away.  Also, selenite is highly fiberous and those fibers often fleck off like "splinters".  It is not a yoni friendly wand, egg, or sphere.  That caveat is more delicate, but so are yonis.  Be careful what stones you select for more intimate work because I've seen so many sellers, who clearly aren't as well versed as they may seem, offering yoni style eggs with minerals that are entirely a bad idea for that use.  All. The. Time.
Enter the Earth and Selenite
The company that Christopher and I work for has a lot of selenite in stock.  If you'd like to see our collection you can stop by our gallery store inside the Grove Arcade, in downtown Asheville, North Carolina.  You can also visit our website.  To see the on-line listing of selenite, please click here.