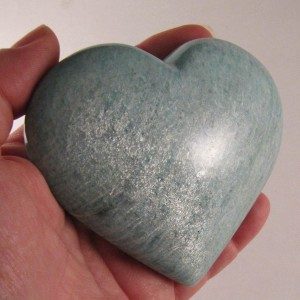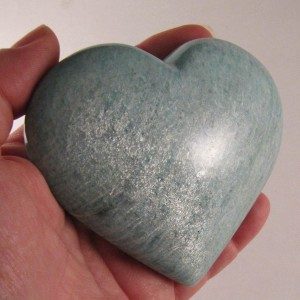 Amazonite is a blue-green, teal, turquoise colored feldspar, which puts it in the family of groovy and exotic moonstones.  I pretty much consider it "blue moonstone", although whenever someone is using that term, they are really describing rainbow moonstone with a blue flash.  To-may-to, to-mah-to.  (That doesn't work as well in writing as it does spoken.)
I find that I am rather neutral about the darker green teal colored amazonite on the market that is very veiny, but that I love-love the lighter more blue variety from Madagascar.  Big surprise.  I know.  I think the darker green that I am ho-hum about comes from Russia.  (Not that there is anything wrong with stones from Russia.  I'm a huge fan of shungite, charoite, and seraphinite, which all hail from Mother Russia.)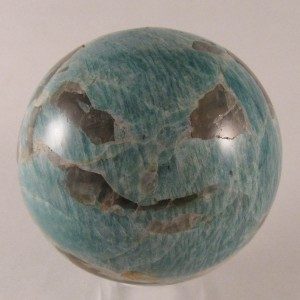 Why Amazonite is Groovy
1) Empathic Buffering Support:  If you've read any of my blogs with any regularity, you know that I am empathically sensitive, which is one of the reasons why I like working and playing with rocks.  My super power is "to feel", either emotionally or energy through touch.  Sometimes more of a pain in the ass than a super power, but if you can actually keep yourself on lock down so that you aren't being pushed around by the world around you, eventually you get to the point where you can use your sensitivities in service to a greater good.
2) Restoring Flow:  Amazonite is named after the Amazon river and the Egyptians associated it with the Nile, so amazonite is deeply connected to the energy of flowing rivers.  Any stones associated with water tend to help with the emotional body and the restoration of flow after blockage.
3) Woman Power: Amazonite is also associated with the mythical warrior women, the Amazons.  Pretty much, no one messed with those women because they would throw down on anyone that tried.  If you need to put your big girl panties on after something, or someone, makes you feel defeated, amazonite can help you sing your fight song.  (He wasn't worth it anyway, you move on, Girl.)  The fact that amazonite is in the feldspar family and deeply aligned with moonstone helps with this "feminine power" aspect, too.
4) Cheap Blue Green Stone:  Amazonite is fairly affordable, so you can often find it in cheaper elastic or chip jewelry.  I often call amazonite "poor girls larimar" because some of the amazonite on the market is way closer to blue than green and it has a beautiful sea blue color to it that reminds me of larimar.  Also, when you are looking to create a chakra healing crystals set or selecting individual chakra stones, there are not as many choices in the blue or blue-green color range to support the throat chakra or the high heart chakra, and amazonite makes a decent choice.
5) Throat Chakra – Heart Chakra Alignment: Amazonite's color is between the heart and throat chakras, so it can be used at either chakra for support, but it can be used between them to support the integration of heart chakra issues (emotions) with throat chakra issues (communication).   So if you have shit you need to say, you can make like John Mayer, and say what you need to say… say what you need to say.  La lalala.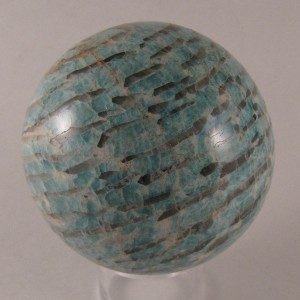 How to Work with Amazonite
1) Amazonite Gem Elixir: Since amazonite is closely aligned with water through it's name association with the Amazon river, a gem elixir would be a fantastic way to work with the energies of this stone.  I would recommend, however, that you use a NON CONTACT method of creating a gem elixir because amazonite gets its color from lead.  The lead is bound to the structure of the stone, but still, be safe.    I would encourage you to do a combo gem elixir and add your favorite flower essence, such as Rescue Remedy, or some other blend that makes sense for your needs.  Matching it with lotus or blue lotus flower essence would be nice too, since the Egyptians associated amazonite with the Nile.
Click here to learn more about how to make your own gem elixirs.
2) Amazonite Jewelry:  Since amazonite is a more affordable stone, you can almost always find it in jewelry that is "just for fun".  The colors of amazonite would lend it well as a necklace and as earrings, as those locations put the stone in energetic contact with the heart/throat chakras, where it wants to do its best work.  Amazonite bracelets would be good too, since all meridians in the body run through the wrist and hands.
3) Grids: I like putting amazonite in grid combinations that need to support and empower feelings and expressions.  It would also be a great addition to a healer's work support grid because it would provide a layer of buffering from clients brew-ha without shutting down empathic information that might be useful for directing the healer to points of need.
4) Booby Rock:  Yes, I just said that.  And, no, you aren't the only person who shoves rocks in your bra. (Sorry, dudes.)  Amazonite is a good rock to stuff in your bra over your heart, especially if you need emotional buffering.  If it is graphic amazonite or amazonite with black tourmaline inclusions, mores the better.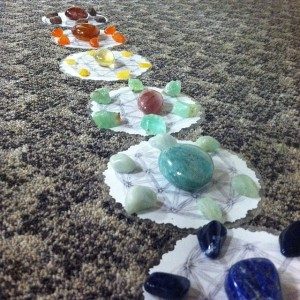 Amazonite Plays Well With….
1) All Other Feldspars/Rocks with Feldspar: Moooooooonstone.  All of it.  White moonstone, black moonstone, peach moonstone, rainbow moonstone, graphic feldspar, labradorite, sunstone, indigo gabbro, and so on.  There is already a family resonance between those stones, so if you are working on a combo grid or pouch set, add amazonite when you want to pull in the qualities it supports.
2) Smoky Quartz: Amazonite forms with smoky quartz sometimes and when it does that…damn, it's amazing.  Amazingite.  This significantly amps up the protection, grounding, and stabilization aspect of the amazonite.  I LOVE Graphic Amazonite (which is the name given to amazonite that has made a baby with smoky quartz).  It's not just stunning, it's smoking hot and useful.
3) Black Tourmaline:  This is another stone that often forms with amazonite, and when it does… again, it significantly amplifies the protection, grounding, and stability of amazonite's already buffering qualities.  Other colors of tourmaline would be cool too, such as blue tourmaline, pink tourmaline, and green tourmaline.
4) Other Protection Stones: We already mentioned smoky quartz and black tourmaline, but other buffering and protective stones would do well, such as shungite, obsidian, amethyst, and Ocean Jasper.
5) Other Blue or Green Gemstones:  Amazonite plays nicely with other stones within the same color range.  I like it with turquoise, lapis lazuli, labradorite, larimar, chrysocolla, quantum Quattro silica, malachite, emerald, and aquamarine.  Yummy.
6) Other Woogy Comfort Stones: Such as rose quartz, mangano calcite, angelite, and lepidolite.
So, there you go.  Amazonite.  It's Amazin'.  (Sorry, that was bad.)
If you enjoyed this article, I'd be grateful if you shared it in any way that made sense to you. We've got easy buttons just below. 🙂 Thanks!
©2020 Stacie Coller, Enter the Earth.  See more interesting blog articles and amazing crystals and rocks at Enter the Earth.  Don't forget to follow us on Instagram!