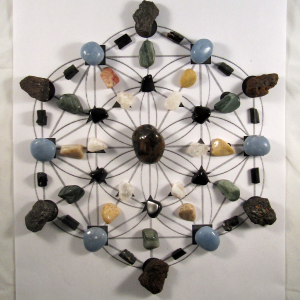 I obviously like rocks.  I can feel the "buzz", which certainly helps in this field. Over the years I have explored many ways to interact with stone energies.  The following techniques are among my favs.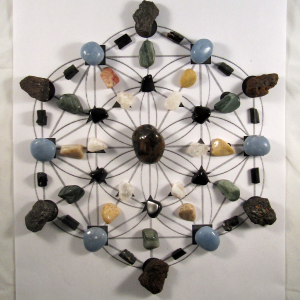 1) Crystal Grids:  This would have to be my most favorite way to work with stones.  This is fairly advanced work, but there isn't anything truly "difficult" about it.  It essentially uses sacred geometry and the process of activating an energy field from stones that are arranged in a type of mandala configuration.
The benefits of this kind of technique is that you can get the energetic effect of a very large specimen with a few or more small pieces.  Also, you can weave together many different energies in a way to create a combination that is supportive of very specific issues.  The activation technique is easy once you learn it and it's pretty easy to learn it.  Remember doodling daisy flowers when you were a kid?  Yeah, that's about as hard as the activation technique gets.
The difficulty of this technique is that I usually use 6 stones of each type of stone I want to grid.  Unless you are using rough stones, this can get expensive.  Also, you need some dedicated flat space to get it going.  We have an information and free grid template downloads on the website.  Just click on the photo of the grid above.
2) Pocket Rocks:  This is really just the process of putting rocks in your front pockets with a little bit of thought about it. The front pocket position is the root chakra position in crystal healing.  The root chakra deals with how you relate to the material/real world.  It is also the energy center that defines how well grounded you are.
Since I am often working with high vibrational issues or energies, I can sometimes feel quite spacie, or what we call, "ungrounded".  It's like being on too much cold medicine. If I'm doing active healing work or other wooey specific work, being a space cadet is usually a very good thing.  Wooey specific work (Reiki, energy healing, crystal work, doing readings, praying, etc.) requires me to be connected and aware of non-ordinary states of being.
Otherwise, I sort of need to be able to stay in my body and get stuff done.  I co-manage a retail store and a website.  I have quite a few "real world" tasks that I have to accomplish each day, but I also have special needs that can make doing "real world" things harder because I have a tendency to deeply feel all sorts of emotional and energetic information around me.  It's distracting.  So, one of my favorite fixes for being a space cadet is putting grounding rocks in my front pockets.  I do it almost every day.
The benefits to this technique is that it's easy.  You don't need to do anything but shove some rocks in your pockets.  Generally black, brown, red, or metallic stones are the best kinds.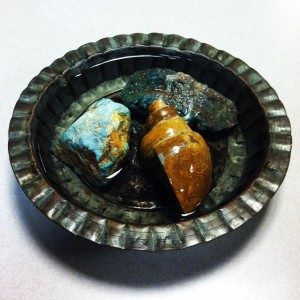 3) Gem Elixirs: This is the process of imbuing a fluid with the vibrational energies of a rock, then you usually drink it, bathe in it, spray it on yourself, or whatever.  It's "buzzy water".
I don't use this method every day, but I love it and use it often when I need a lot of energetic intervention.  I also love flower essences and often create combinations of both flower and gem essences.  I really like being able to "drink" in and process energies this way.
The benefits of this technique is that you are almost taking in the vibration like a "medicine".  It's a tangibly good way to integrate energy.  You can make a larger blend of several stones, or keep it to single stones.  You buzz up the glass of water you are about to drink down or create a blend that you can preserve and use by the drop.
The difficulties of this technique is that not all rocks are suitable for making elixirs if you put them in direct contact with water.  Some rocks are poisonous and toxic.  It would be a bummer to create an elixir that makes you sick or dead, so don't do that.  There are non-contact methods you can use to make sure you don't accidentally poison yourself.
4) Direct Attunement: Umm, this method had to come before any other method, and I consider it ~step 1~ in learning to interact with stones.  It basically means… you hold a rock and ask to attune to it's energy.
Yep, that's it.  Hold a rock.  Ask to attune to it.  Then let it rip.  The inclusion of your intention to receive an energetic adjustment so that you are in alignment with the energies of a rock is huge.  Intention is huge.  I usually also include, "so long as it is appropriate and in my highest good", because…well, it's just  a good idea.
The benefit is an immediate shift.  Also, you can wander through a rock shop and literally do a pretty full healing session on yourself.  That's cool.
The difficulty with this technique is just getting your hands on the rock that is going to shift you in a way that you desire.  That tends to be as hard as just going with your gut.  So, not really that difficult.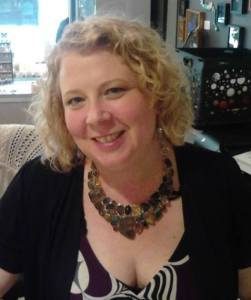 5) Wearing Jewelry:  Yeah, this doesn't need much explanation, does it?  Humans have been into jewelry forever.  I tend to like to wear jewelry in a way that is a bit more intentional, such as pendants that support my heart or throat chakra, earrings that support throat or crown chakra, and anklets that are grounding.
Hands and wrists, via the meridian system, can influence the larger system.  So rings and bracelets can be any stone or color.  I usually keep in mind my receptive side and projective sides.
The benefit of jewelry is that it is beautiful and you can easily hide the fact that you are using stone energy to support yourself in some way.  A lot of people think that is bat shit crazy and would be thrilled to judge you about it.  So, doing it on the down low is nice.  The heart center is often an energy center that needs more support, so a nice pendant hanging there can be very useful and energetically appropriate.
The difficulty of this technique is that jewelry is often expensive.  Not always, of course.  I love elastic stretchy stone bracelets.  Cheap and very useful.  I also like some very affordable stones to hang out by the heart chakra, like rose quartz.  But sometimes, well… my taste is far more fabulous.  There is a multi-colored tourmaline collar necklace at the store that I adored.  It's dreamy and sold a long, long time ago.
©2020 Stacie Coller, Enter the Earth.  See more interesting blog articles and amazing crystals and rocks at Enter the Earth.  Don't forget to follow us on Instagram!