Labradorite ranks as one of the stones that is a must have for anyone who uses crystals and gemstones. It has a wide range of uses from daily protection, shielding, energy cleansing, as well as more esoteric uses for spiritual work.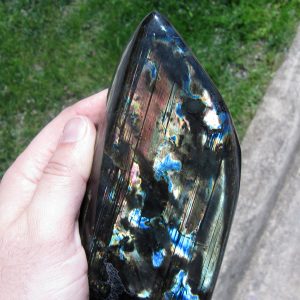 What About Spectralite?
Spectralite is basically the same stone as labradorite, but it is considered a higher gem quality version of it.  I like to call it "labradorite on steroids".  The above photo is a good example.  See how it has many colors all swirled in it?  Almost like an oil slick.  Spectralite does come from a different mine than labradorite and very, very little of it is being mined currently.  It is much more cost prohibitive to mine it vs. labradorite.
Too Much is Not Enough…
Anyway, as much as I would like to believe I can be done getting labradorite, I think I may never actually have enough.  I have several personal pieces and I have moved some along to others.  As soon as one gets placed elsewhere, I find myself excited to sort through the labradorite at the store to find another one.  The last one I got was a spectralite pebble that has purple in it. Love the ones with purple. They are actually quite rare.
Pocket Rocks
Labradorite is one of the best "pocket stones" you can use.  The placement of the labradorite in your pocket puts it in the groin placement area commonly used in crystal healing layouts.  "Grounding" stones that are black, gray, brown, and red are the best kinds of stones to put in that pocket/groin position because it is the ~proper chakra placement~ to provide you with the maximum amount of energetic support.
Grounding and Stabilizing
The dark gray part of the rock is actually a little grounding and stabilizing, but not in the same way as smoky quartz or other darker stones.  I feel that the dark color of labradorite creates a type of "modulation" grounding of the higher light energies found in the flash to be more useful and accessible at the physical level.  In other words, it grounds the higher vibrational qualities of itself quite perfectly.
Walk in Both Worlds
It is a prime example of a stone that walks in both the spiritual and physical worlds at the same time.  It's a lesson for us all to learn. In fact, the ability for labradorite to walk in both worlds is one of the main reasons it makes its way into my pocket when I leave the sacred space of my own home and go out and about in the world.  I'm a sensitive girl and I need strategies to manage the onslaught of energetic information and stimulation found in the world beyond my own walls.
Labradorite fills out my auric field so that my field is stronger and less permeable to the energies of other people, environments, etc.  It is similar to being within an egg of protection, even though it's not technically "protection" in the way you might consider it.  It is protective and shielding because it makes me stronger and less vulnerable.
When I am energetically comfortable and buffered in this way, I am more able to be open to the world without compromising my own stability, and without having to shut down my sensitivities/empathy that might do some good for a few folks that wander in my direction.  So, basically, labradorite helps me to walk in both worlds at the same time too. If you'd like to see labradorite and spectralite on our website, just click on either of the photos in the article.
©2020 Stacie Coller, Enter the Earth.  See more interesting blog articles and amazing crystals and rocks at Enter the Earth.  Don't forget to follow us on Instagram!