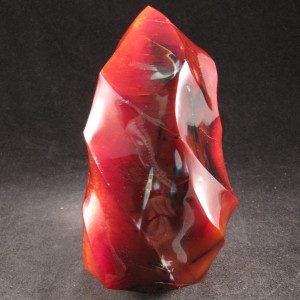 I'm not sure why, but I like to say the word carnelian like I'm Doctor Evil from Austin Powers.
~Car-neeee-leeee-annnn~ *Stacie puts her pinky finger against the corner of her mouth*
It's just a fun word to say.
I also have to confess to having one of the world's strangest collections.
I collect carnelian specimens that whistle.
I have three spheres at home from grapefruit size to plum size that have hollow  geode pockets inside with a small hole on the outside surface.  When I blow into those holes ~*tada*~… I get a screaming carnelian sphere.  I'm not sure why this makes me so happy, but it does.
So, carnelian.  It's one of the most popular stones out there and for good reason.  It's got a biblical shout out, by some translations, to being one of the 12 stones in the breastplate of the high priest.  It is also one of the more readily attainable stones in the market and isn't terribly expensive as far as stones go.  It is also the semi-precious alternate birthstone for the month of July.  The precious birthstone for July is ruby.  They actually play together quite nicely, too.
At the end of the day, regardless of how history or economics sort out this stone, it's got a lot of ~juice~.  Meaning, it's got the "zoom zoom" in all the right places.
I see this stone as being intimately connected to the physical and material worlds.  It is, quite literally, carnal, or of the flesh.  To me, it feels like a stone of passion, desire, and sexual energy.  It also has the qualities of strength, endurance, and vitality.  I consider it as being aligned closely with the element of fire.  It feels hot to me energetically.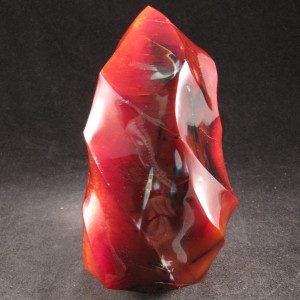 I grab carnelian when I am feeling drained and exhausted and when I am at a deficit of vital, physical, life-force energies.  My general nature is to be creative, but when I'm tired, I can't muster up the inspiration to engage any projects.  When I'm tired or worn out, everything about living life is more difficult.
Creative energy, inspiration, and passion are all woven together, at least in my world, and carnelian helps me to plug back into my inner fire, the ~zest~, that allows  me to give a crap about engaging in life and all that it has to offer in my physical reality.
OK, now I'm seeing the 7 Dwarves from Snow White marching off to work while whistling.  Carnelian is actually summed up nicely in that image…. the joyful engagement of physical reality.
My favorite techniques for carnelian:
Pocket Rocks: I place carnelian, sometimes with another stone, in my pockets during times when I feel low on physical energy.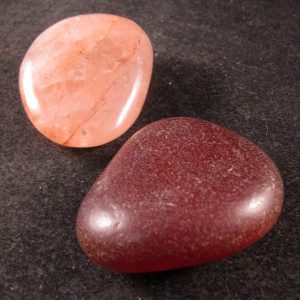 Crystal Grid: I also tend to put them in any grid that relates to passion, creativity, sexuality, or the support of vitality.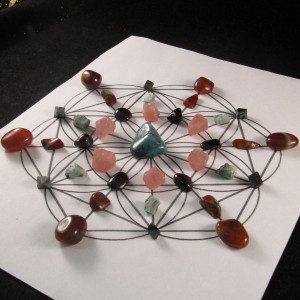 Chakra Layout: The color of carnelian align it with the belly chakra and those related issues.  I almost always include carnelian in any chakra "laying-on-of-stones" session because of it's good punch of the luscious reddish-orange colors.
Gem Elixir: I would use carnelian as a gem elixir to help get me get some gasoline on whatever fire I was trying to start.
Well… I also like for them to whistle, too.  But that might just be me. 😀
©2020 Stacie Coller, Enter the Earth.  See more interesting blog articles and amazing crystals and rocks at Enter the Earth.  Don't forget to follow us on Instagram!