True unadultarated citrine.  It's ~divine~.  It's like petrified, golden sunlight.  Natural, As-Mother-Made-It, citrine is actually quite rare.  There is some coming out of Brazil, some from Africa, and some from Madagascar, but most of the "citrine" on the market is actually heat-treated amethyst.  See, they take amethyst that is too light to sell well as amethyst, and they "cook it" until it turns that brassy orange color.
And you know what,  I dunno, heat-treating rocks doesn't offend me nearly as much as irradiation offends me.  I have some heat-treated citrine in the house that I've used for energy work before and it's fine… but… it is definitely different than natural citrine.  They are, well… truthfully, two different crystals.
Anyway, I want to discuss citrine, The Real Thing.  It is totally differerent than the other stuff.  The energies of true citrine are not as assertive as treated citrine, but they are higher, lighter, and more, I dunno… "divine" probably does describe it.  Natural citrine holds the energy of both the yellow and golden rays… and it tickles you both in the solar plexus as well as the crown.  There is a decidedly angelic quality about natural citrine.  If you paired natural citrine with a "spiritual helper" stone, like angelite or celestite, my guess is that you would be able to plug into some fairly high levels of vibrational assistance, or you could spend the time to attune to your own Higher Self that maintains connection to  those lighter vibrational spaces within.
Then, there are the miraculous and amazing citrines… or are they smokies…. err, well, they are both.  We call them Smoky Citrine or Golden Smoky, same rock.  This happens when natural citrine and natural smoky have a baby and live happily ever after.  Those specimens sometimes are citrine with smoky phantoms.  Yum.  The combination of citrine and smoky is well… hmm…. smoking.  The citrine maintains that golden ray, high vibe thing and the smoky pulls all that wonderful high stuff deep down through your toes and into the Earth.  Smoky is inherently protective and stabilizing and provides excellent boundary integrity, so it's like the citrine energy is coming with it's own "bouncer" that makes sure that all the wonderful spiritual shifts and sloughing off of heavier energy is, well… good and permanent.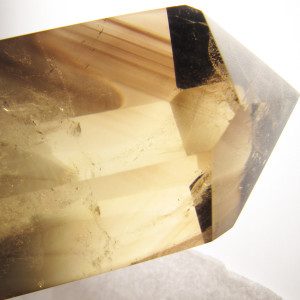 Citrine with smoky phantoms (distinctive shape of an inner ghost crystal in smoky) can also be used for bringing light and healing to past-lives, as well as giving you terrific support for any "inner shadow" healing and integration work.  All a bonus.
I would highly recommend having at least one little natural citrine in your collection.  They are expensive, as they are so rare, but a little goes a long way.
My favorite uses:
Pocket Rock/Nearness: When you are feeling down and need a big infusion of beautiful, bright, high vibrational energy to counteract the funk, keep your citrine with you.  Get as much "nearness" with it as you can.  Breathe with it, stick it in your bra for the day, go outside in the sun with it, just stick it in your pocket.
Crystalline Grids:  Use the citrine as a center stone unless you can afford 6 at a time, which most of us can't.  A nice, juicy little point or a nice, juicy tumbled stone the size of a walnut would be able to hold the center of a grid just fine.  Citrine for high light spiritual connection: add some angelite or celestite.  Citrine for abundance and prosperity: add stones like peridot, aventurine, ruby, pyrite, emerald, jade, that kind of thing.  Citrine for mood support: add lepidolite, selenite, Himalayan salt, labradorite, topaz, red jasper, that kind of thing.
Gem Elixir:  Drink it in, Baby.  Citrine is fine for direct contact methods of gem elixir making.  Plop your sweet baby gently in a large glass of clean water, put a little platic wrap over the top so you don't collect bugs, and leave it in the sunshine for an hour or so.  Then, and this is an IMPORTANT step, hold the glass in both hands while saying, "Expand, Bless, Optimize, Stabilize, Amplify, and Seal".  Wait until the sealing process comes to a conclusion (you may feel the energy kick in, build, then come back down). Then drink and enjoy.
Coin Purse:  Citrine is famous for being an abudance stone, and who doesn't need a little infusion of that, eh?  Get a wee one and put it in your coin purse.. or leave one in the prosperity section of your home via Feng Shui.
©2020 Stacie Coller, Enter the Earth.  See more interesting blog articles and amazing crystals and rocks at
Enter the Earth
.  Don't forget to follow us on
Instagram
!