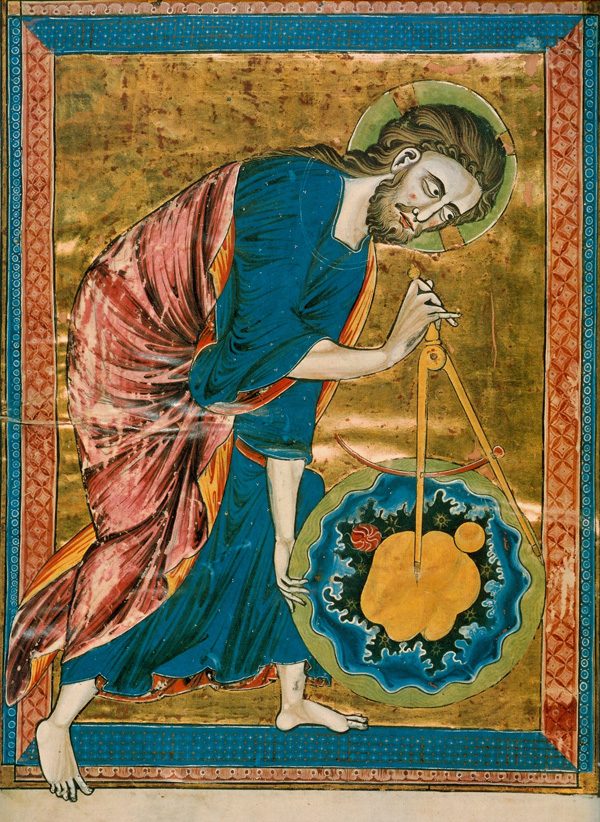 Deciphering the Meaning of Ocean Jasper®
By Christopher Lee Matthews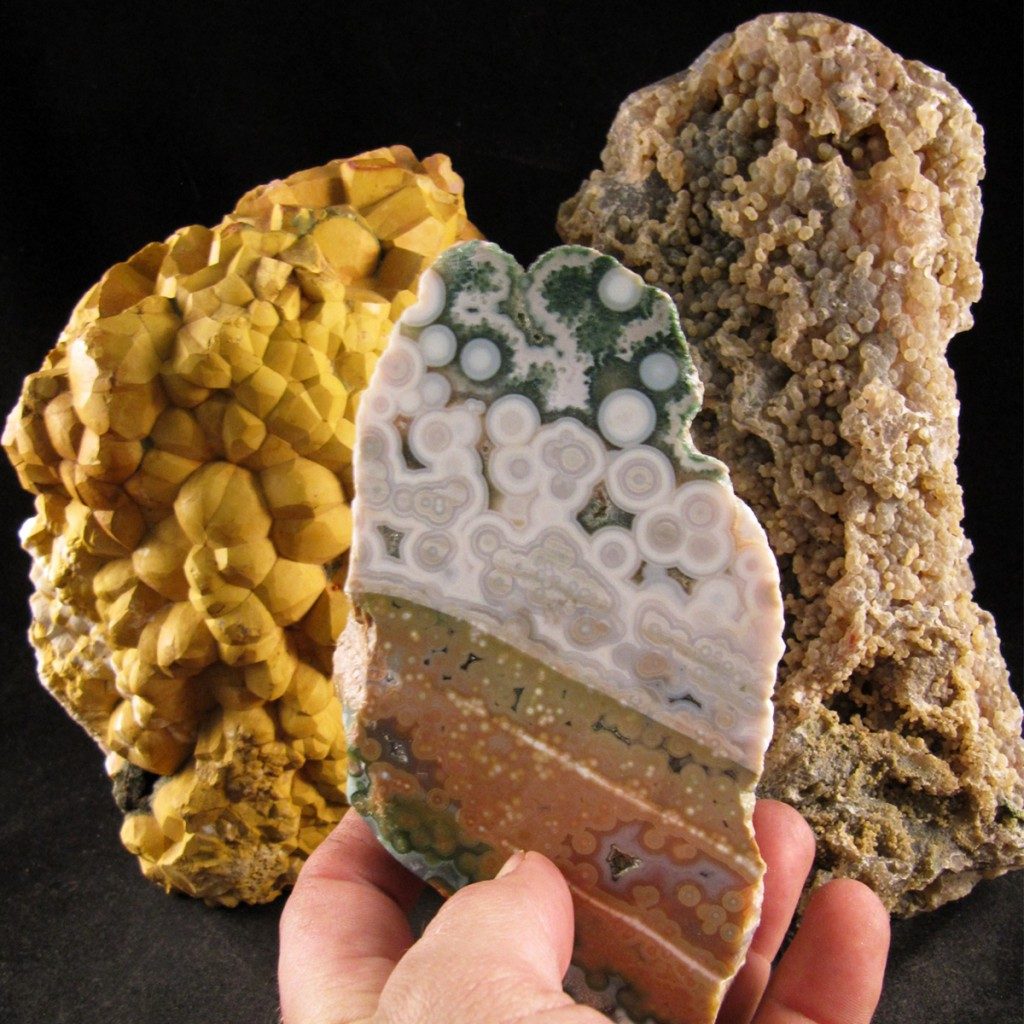 (Rough and polished examples of Ocean Jasper®.   Center:  Its orbs can resemble bull's eyes, starbursts, or dots when polished.  Right: They may be spherical, botryoidal, or druzy.  Left:  They can even produce more geometric shapes when they touch one another.)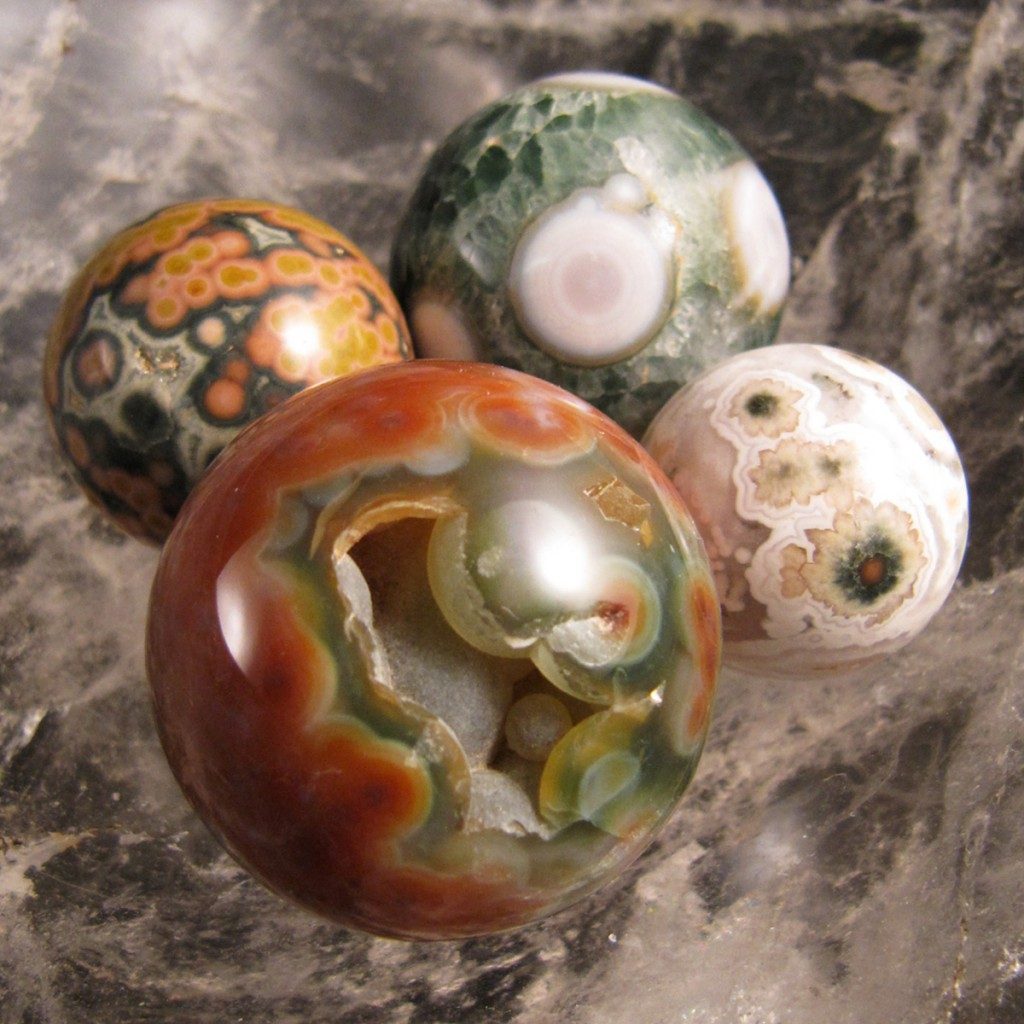 (Small Ocean Jasper® spheres in a quartz bowl, displaying the wide range of orb patterns.  Below:  Translucent spheres and half spheres known as "fish eyes".  Above:  Concentric rings known as "bull's eyes" or "ripple orbs".   Left:  A field of small dots.  Right: Orbs with a quartz border known as "starbursts" or "flowers".)
What is Ocean Jasper®?
Ocean Jasper® is a trademarked name for a multicolored Madagascan stone with spherical patterning set against a contrasting background color.   Although called a jasper, the stone is actually a mixture of different forms of quartz: clear and colored varieties of chalcedony, banded agate, and pockets of tiny quartz crystals called druzy.  When examined under a polarized light microscope, Ocean Jasper® becomes chalcedony spheres floating in a sea of chalcedony.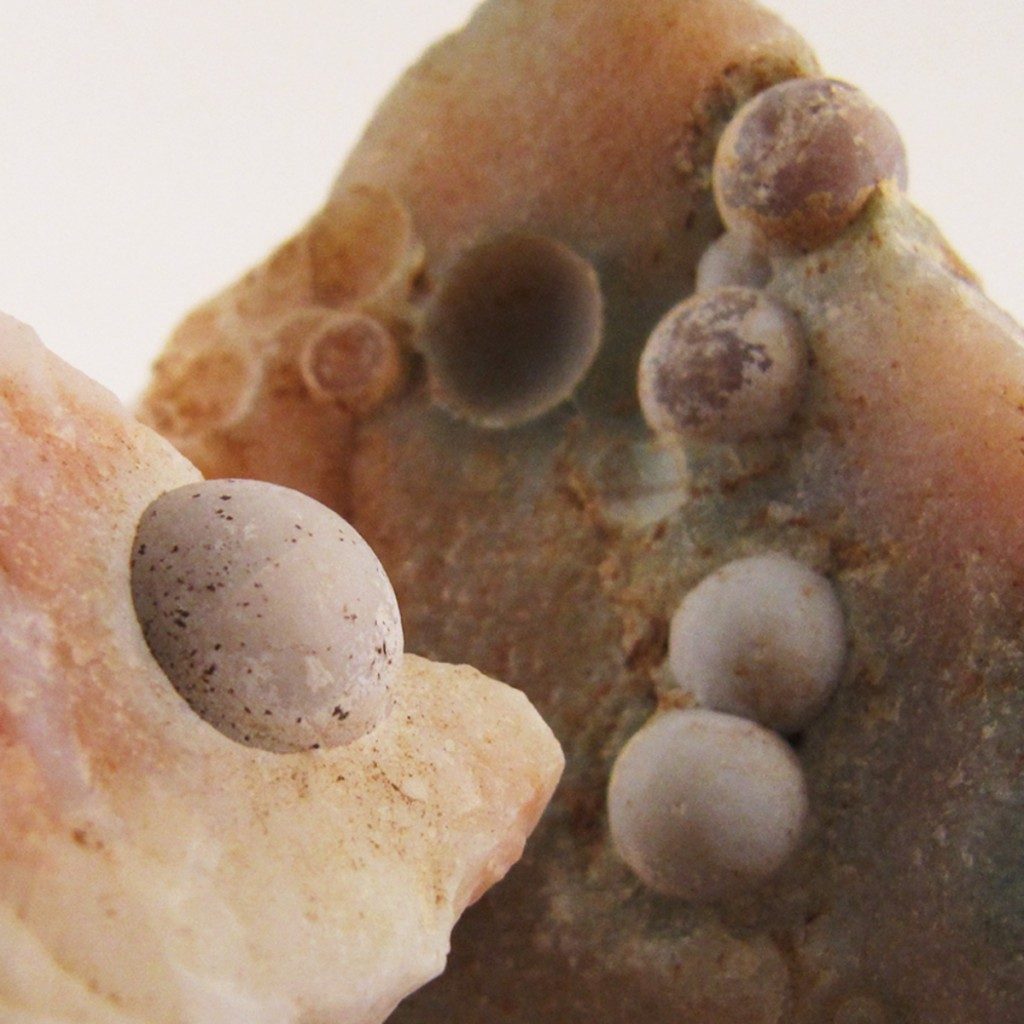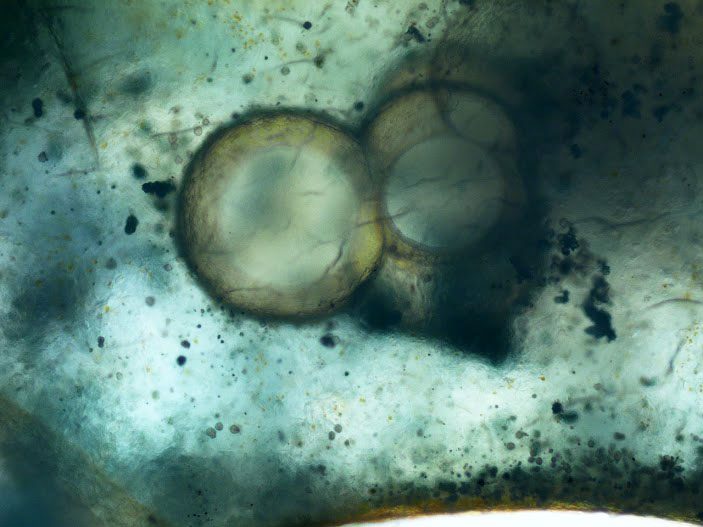 (Above:  Orbs and spherical voids in rough Ocean Jasper®.  Below:  Polarized light microphotography of Ocean Jasper®, courtesy of Becca Hahn, ©2015.)
Ocean Jasper® is only found in one place, the remote northwestern corner of Madagascar, an island nation off the southeastern coast of Africa.  However, there are actually two different sources, about ten miles apart:
Marovato:  The mine near the village of Marovato is directly on the shoreline. The material there comes in a wide range of colors.
Kabamby:  The mine near the village of Kabamby is further inland. The material there tends to be dark green and golden yellow, sometimes cream and red.
Both the mines near Kabamby and Marovato are currently productive (2021), although variable in availability.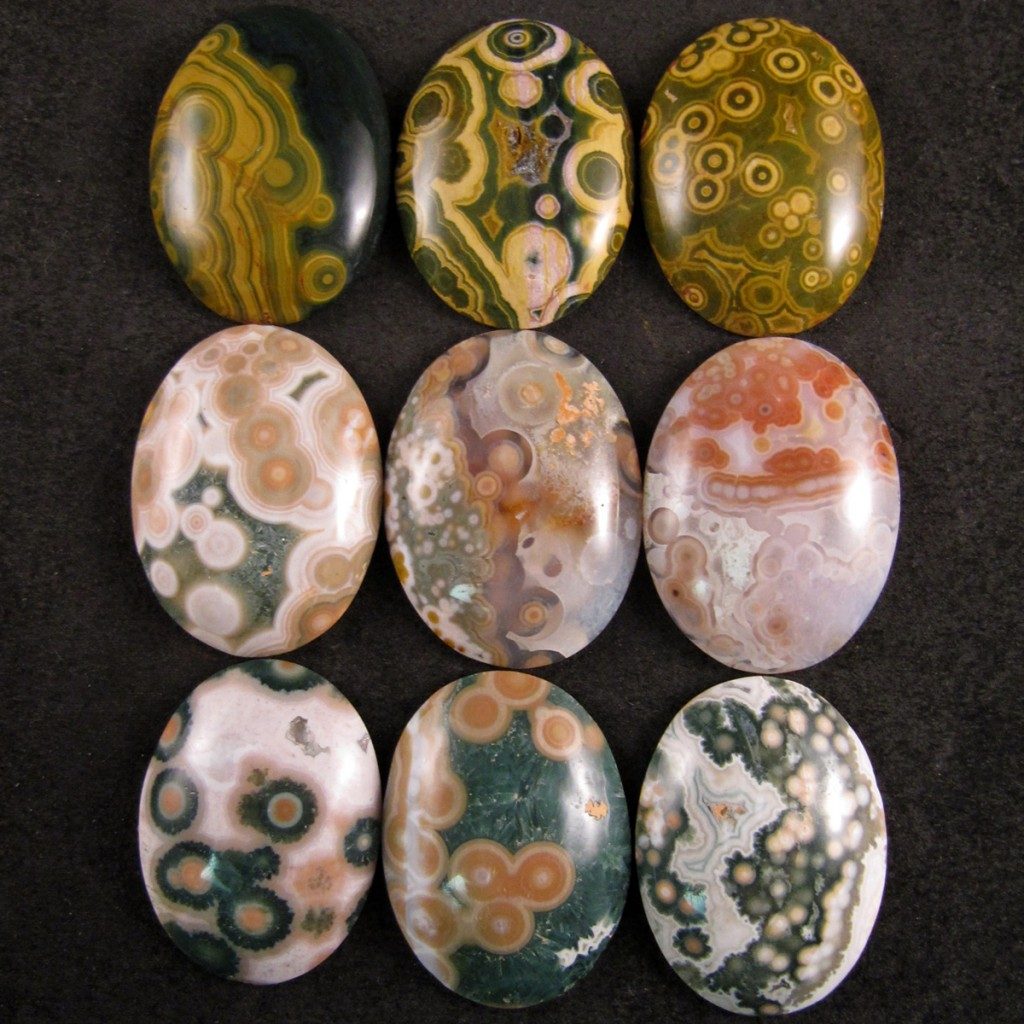 (These cabochons shows the distinct differences between the two Ocean Jasper® deposits.   The top row is Kabamby Ocean Jasper® and the bottom two rows are Marovato Ocean Jasper®.)



What is the color palette of Ocean Jasper®?
Ocean Jasper® comes in every color of the rainbow:
Almost all pieces have some green, white, or earth tones like gray, cream, and tan on them.
Warm colors like yellow, peach, and reddish orange are the next ones most likely to be seen.
Dark red, bright pink, and light purple are more unusual.
Dark blue is rare while grayish blue and blueish green are more common.



What is the story of Ocean Jasper®?
Ocean Jasper® is a modern stone.  Although random pieces are documented from the early 20th century, their precise origin was unknown.  A Frenchman living in Madagascar named Paul Obeniche discovered the source in 1999 and introduced the stone to the general public at the Tucson gem show in 2000.
The stone was given the name "Ocean Jasper" there by Paul Obeniche and Eugene Mueller of the Gem Shop.   It reflects the stone's unique relationship to the sea.  It was first discovered and collected at low tide, on the shoreline of the Indian Ocean, and often resembles water.  (The name Ocean Jasper® was originally registered as a trademark by the Gem Shop in 2001.  Enter the Earth became the trademark owner in 2022.)
Enter the Earth has a very personal relationship to Ocean Jasper®.  Paul Obeniche was the mentor of Nader Kawar, the owner of our company, and we have managed both mines since 2013.
To learn more about the history, geology, and different varieties of Ocean Jasper®, check out the geology blog on our sister site Enter the Earth.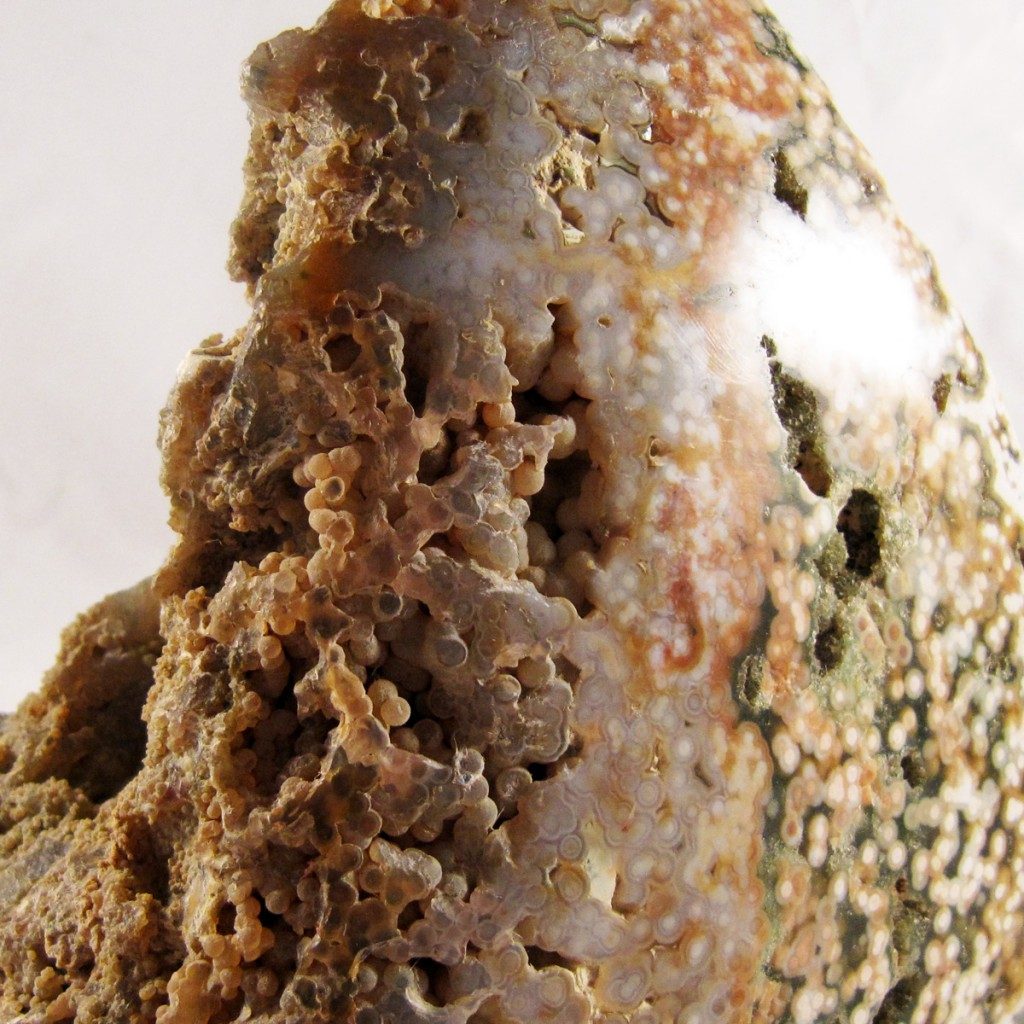 (A one side polished Ocean Jasper® freeform showing both complete orbs and variegated dots revealed by cutting and polishing the stone.) 
What are the metaphysical properties of Ocean Jasper®?
1: Tidal Jasper:   The most consistent meanings given to Ocean Jasper® are uplifting feelings, going with the flow, and processing emotional trauma.  Ultimately these derive from its relationship to the tides.  Ocean Jasper® was discovered by chance at low tide and gathered along the shoreline before the underground veins were worked.  After being collected the rough material is transported by boat at high tide, since the area is too remote for roads.
The stone itself resembles waves, concentric ripples, and sea foam.  Water is a traditional symbol of our feelings and the tides signify our emotional highs and lows.  Ocean Jasper® represents the rhythms of the inner sea: upwelling feelings like joy, happiness, and contentment, expressing our emotions, and sifting through our personal flotsam and jetsam, the things unintentionally and intentionally left behind during a crisis.  Many interpret its vivid colors, bubbly orbs, and druzy starbusts as energy signatures of positivity, spontaneous child like joy, and a passion for life.
Ocean Jasper® combines especially well with other watery stones like aquamarine, clear quartz, and shungite and organic gemstones like coral, pearl, and amber that come from the sea.
Since it was originally found and harvested in the surf, some in the metaphysical community connect Ocean Jasper® with Atlantis, the legendary island that sank beneath the waves, calling it Atlantean Jasper or Atlantis Stone.  Interestingly Madagascar itself is directly related to Lemuria, a different lost land discussed in both 19th century science and occult writings.
Ocean Jasper® combines well with other ancient wisdom stones like Larimar, serpentine with stichtite, and Lemurian seed crystals.
(The claim near Marovato has produced other stones, most famously Ocean Wave Jasper.)

2: Salt Water Jasper:  Even more of its metaphysical properties are derived directly from water, specifically salt water.  Salt water has both religious and therapeutic connections with purification, relaxation, and healing.  Likewise Ocean Jasper® is commonly described as cleansing, soothing, and supportive of well being.
Some scientists speculate that Ocean Jasper® may be a silicified rhyolite.  Rhyolite is a volcanic rock similar in composition to granite.  Certain varieties are glassy because of their high silica content, like obsidian.  These natural glasses are unstable and may develop orbs as the minerals inside them crystallize.  Many interpret this potential fiery origin as signifying the transmutation of negativity, bringing order out of chaos, and a potential for manifestation.
Ocean Jasper® combines well with other purification stones, especially those connected to one of the five classical elements like obsidian, salt, and naturally tumbled rocks like Shiva lingas, riverstone, and water worn pebbles.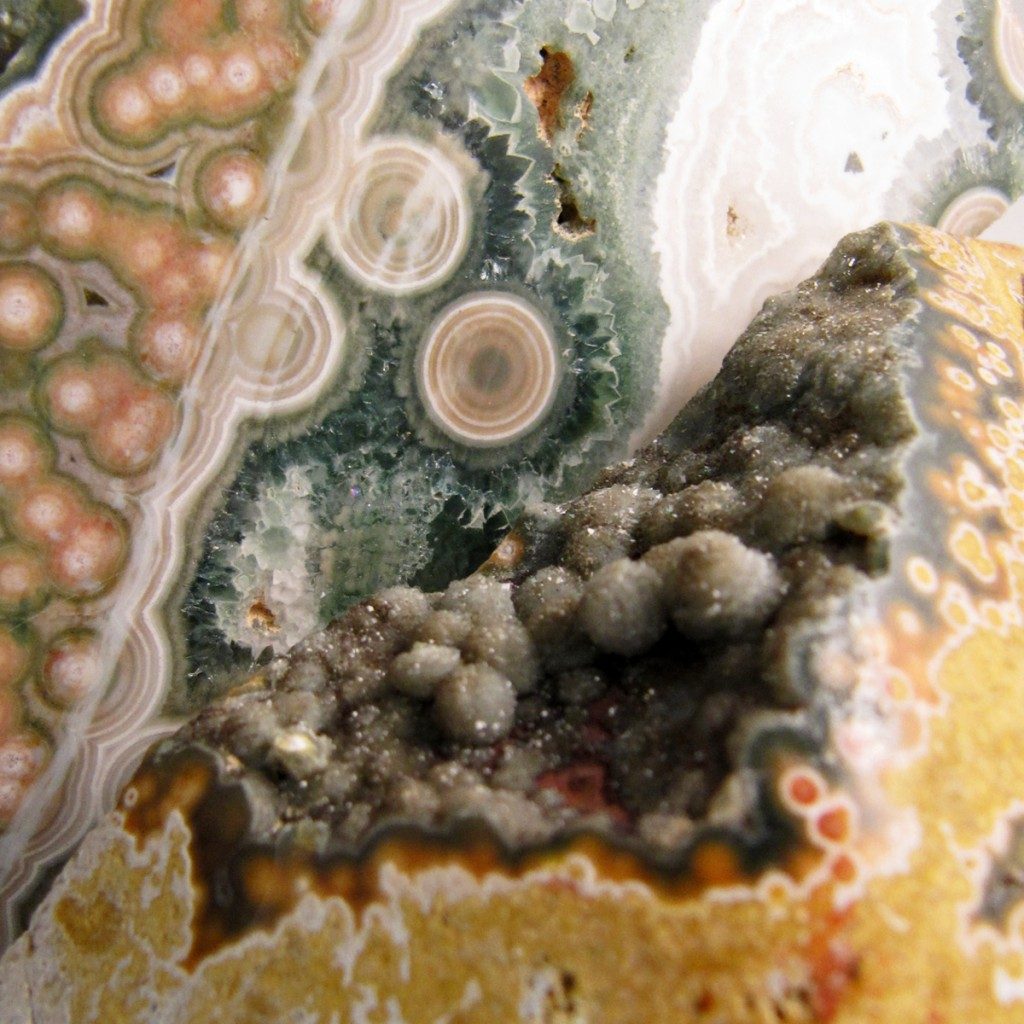 (An Ocean Jasper® slab next to a freeform showing a two and three dimensional perspective of green quartz druzy coating an orb.)
3: Millennium Jasper: Just as golden purple ametrine combines the qualities of amethyst and citrine, Ocean Jasper® blends the metaphysical properties of multiple varieties of chalcedony, each associated with well being in different parts of our lives.  Among them:
Colorless, White, to Blue = Chalcedony: Signifies clear communication, cutting through illusion, and success.
Yellow, Red, to Orange = Carnelian: Signifies vital energy, empowerment, and spiritual protection.
Banded Layers = Agate: Signifies mental focus, balanced interactions, and endurance.
Green is the most consistent color, a less common variety of chalcedony known as plasma.  The word comes from the Greek plasma ("something molded"), after its popularity for carving wax seals in antiquity.  People once believed it was the host rock for emerald, poetically naming it the "mother of emerald".  Because of this symbolic relationship, plasma took on emerald's attributes of healing, comfort, and growth.
As a stone of green goodness, Ocean Jasper® supports energy work like Reiki and Earth centered modalities like herbalism.  It pairs well with other healing stones like jade, turquoise, and chlorite included quartz.  Minerals used for well being are often blue and green, after the life giving qualities of water.
Many in the metaphysical community believe that new stones reveal themselves at specific times in the evolution of human consciousness.  Because it was discovered in 1999 and introduced to the general public in 2000, Ocean Jasper® is sometimes called "Millennium Jasper".  The most consistent message during our readings was its potential role in personal and planetary healing, especially current environmental crises like water pollution, drought, and our threatened oceans.  As a modern blend of classic gemstones, used individually for mental, emotional, and physical health, Ocean Jasper® carries the signature of integrative wellness.  Many pieces also have a druse of quartz, a coating of tiny points, known more commonly as "druzy".  Because all its crystals share the same foundation, druzy also represents harmony between different elements.
Because of its unifying qualities, Ocean Jasper® also helps combinations like crystal grids, medicine pouches, and body layouts better blend their mixed energies.  It is also a stone of attunement, helping individuals acclimate to new people, places, or states of being.
Ocean Jasper® pairs well with other integration stones like Herkimer diamond quartz, agate, and clusters and spheres of all stones.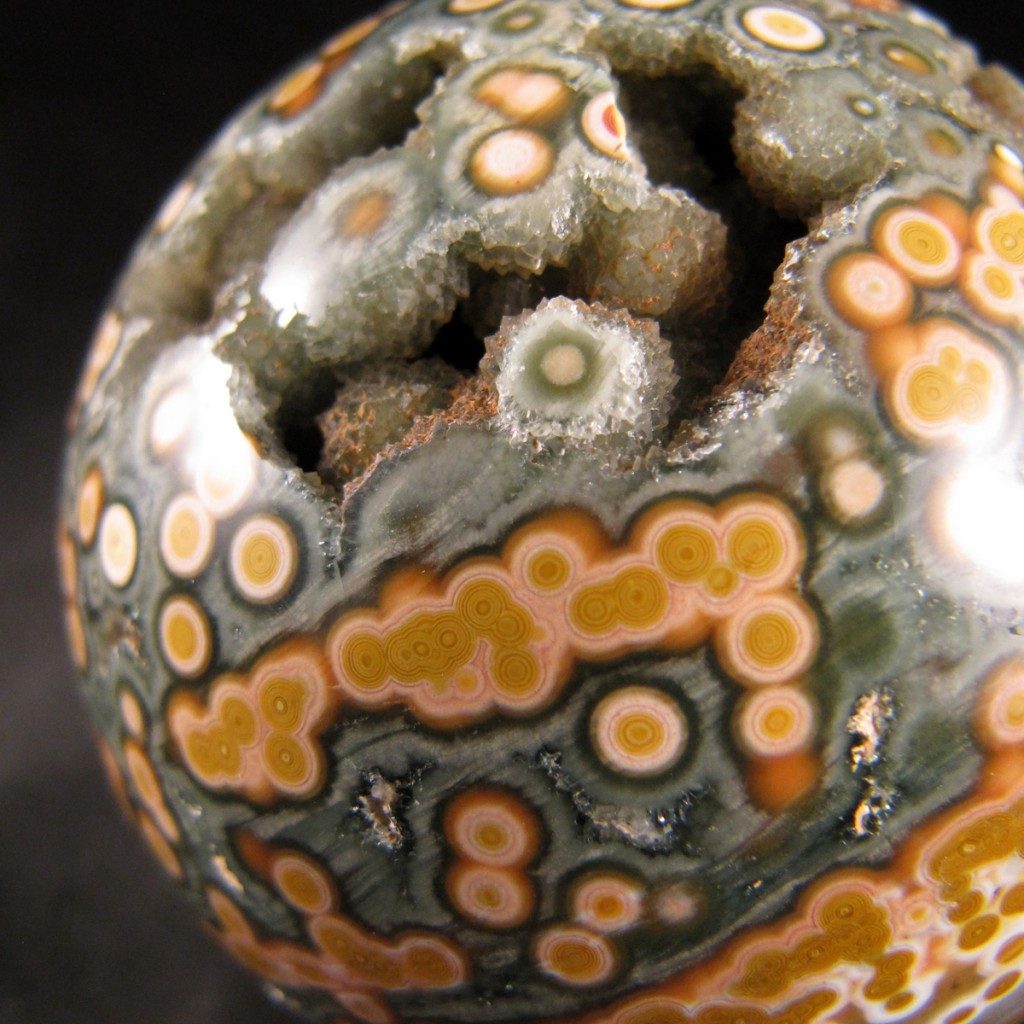 Its orbs are more technically called spherulites, from the Latin sphaerula "miniature sphere" and the Greek suffix -ite, meaning "rock".  They are produced by radiating chalcedony fibers forming around a central nucleus, creating a small stone ball.  This growth pattern is reflected in the energetic qualities of the stone.
Ocean Jasper® is "a parts to the whole" worker, first correcting an individual element and then restoring it to a larger system. For example, its orbs resemble bull's eyes, flowers, and stars, all energy signatures for the chakras, while its layers suggest the nadi, the energy currents that connect the chakras together.  When used for chakra balancing, Ocean Jasper® not only adjusts an individual chakra, it aligns it within the subtle body as a whole.
This quality could also help correct other energetic systems, where individual components are linked together, like a vortex and its ley lines, a stone placed in a crystal grid, and an individual within a group.
Since it literally comes in every color of the rainbow, Ocean Jasper® is well known for clearing, balancing, and aligning the chakras.  While it can be used on any chakra, pieces that match the color of a particular chakra are especially well suited for working on it. For example, green Ocean Jasper can be used anywhere on the energy body or specifically on the heart chakra.
Ocean Jasper® combines well with other chakra balancing stones like clear quartz, kyanite, and labradorite.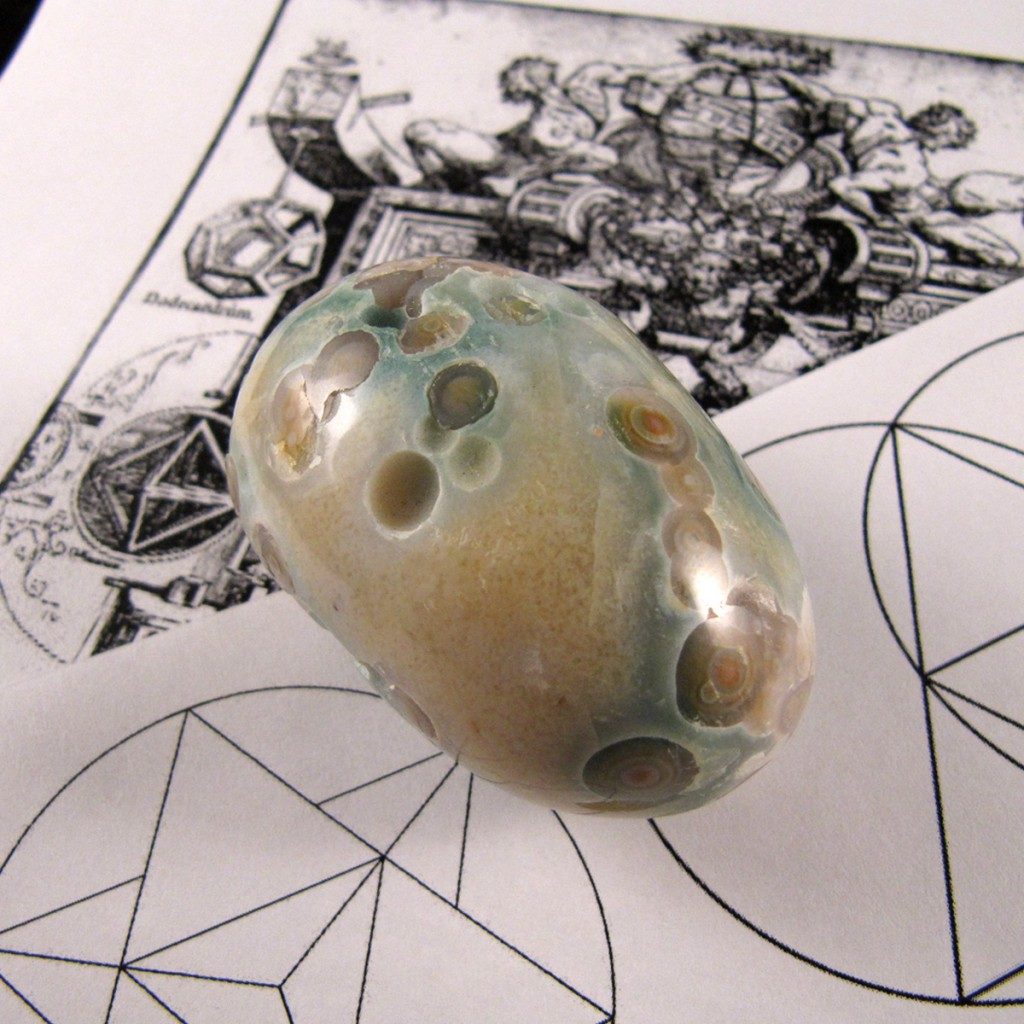 (Ocean Jasper® has a relationship with the sacred geometry of the circle, sphere, and point.  A pebble with concentric rings and spherical voids on spiritual diagrams.   Bottom left: Stellated octahedron ["star tetrahedron" or "merkaba"] in a sphere.  Bottom right: Vesica piscis with triangles.  Above: 16th representation of the Platonic solids by Jean Cousin.  Each of the Platonic solids can fit perfectly inside a sphere.)
4: Orbicular Jasper: Its round orbs associate it with the circle and sphere, traditional symbols of wholeness, perfection, and time since neither shape has an obvious beginning nor ending.  For example, in Chinese thought the circle represents the perfection of the heavens, after the dome of the sky and the round shape of the Sun and Moon, while the square represents the divided Earth, signifying the four cardinal directions.
The circle and the point are also the foundations of sacred geometry.  Two intersecting circles produce the vesica piscis (Latin, "air bladder of a fish"), a lens shape used to create additional shapes like the triangle, square, and pentagon.  Because a drawing compass leaves a mark, circles are often depicted with a central dot, showing their construction.  This point represents oneness, potential, and the divine origin of all things.
Because of their connection to divinity, the circle and sphere can finally represent the sacred self.  Spiritual beings are often represented with round or mandorla shaped halos, an almond shape created by crossing two circles.  Likewise the energy body itself is ultimately spherical in many spiritual traditions:
Aura (Greek aura "breeze"): The energy field around the human body, divided into different layers.  At first these follow the outline of the human body but gradually become more curved.  The final bands are spherical or ovoid in shape.
Merkaba (Hebrew merkabah "chariot"): A model of the energy body consisting of a stellated octahedron, a three dimensional hexagram, suspended within a perfect sphere.
Ochema (Greek ochema "vehicle"): The 4th century CE philosopher Iamblichus believed the subtle body became more luminous and spherical the closer the soul came to God.  Roundness and light were qualities of the divine, as displayed in the circular movement of the planets and stars.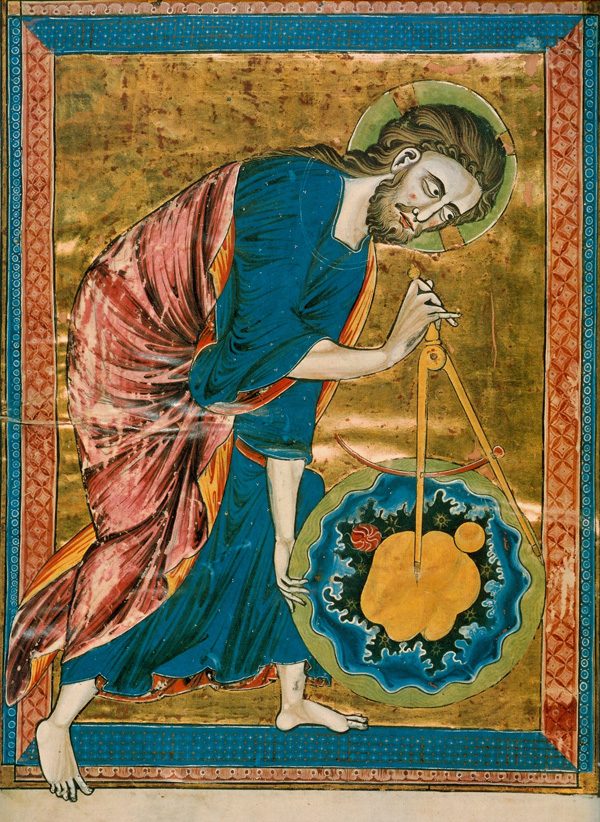 (A 13th century French manuscript illustration representing God as the Geometer, creating the universe through mathematics.  He made the Sun, Moon, and stars on the fourth day in Genesis.  The cosmos is represented as a circle with a central point, defined by the two arms of a compass.)
Because Ocean Jasper® carries the sacred geometry of the point, circle, and sphere, it may support devotion, higher states of consciousness, and our personal and collective spiritual evolution.  Its orbs can resemble both eyes and meditative tools like mandalas and kasinas, colored disks used for focus.  These are additional energy signatures for centering, meditation, and concentration.  Historically chalcedony itself meant spiritual sight, religious fervor, and an inner luminosity produced by faith.
Ocean Jasper® combines well with other stones used for spiritual development like phenakite, moldavite, and amethyst.
My late friend Ken Harsh thought Ocean Jasper® had a connection to the modern orbs phenomena.  Many people believe that translucent circles in digital photos record the presence of ghosts, spirits, and angels.  He taught that its orbicular structure could help us connect to such non-physical light beings.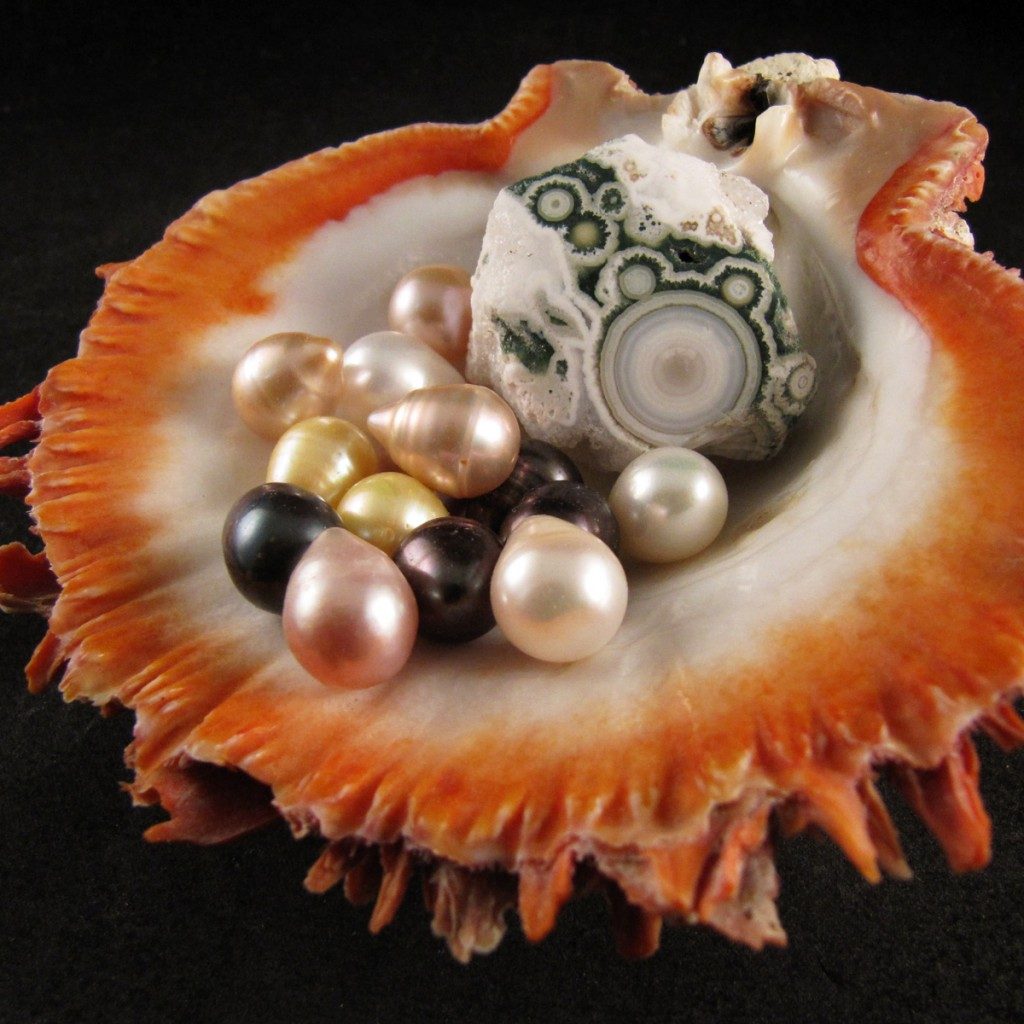 (A polished Ocean Jasper® chunk in a spiny oyster shell, with undrilled pearls.)
5: Moon Jewel Jasper:  Ocean Jasper® is also known as Moon Jewel Jasper, after a poetic name for pearls.  Their round shape, white color, and origin in the sea have symbolically linked pearls with the Moon for centuries.  People once believed that oysters formed pearls from water drops touched by sunlight, moonlight, and starlight.  Ocean Jasper® has taken on many of their qualities like purification, soothing irritation, and emotional expression.
Its orbs also resemble the Sun and Moon, with radiant halos, and starbursts.  Because of these energy signatures Ocean Jasper® could be used to connect to the Sun, Moon, stars and planets, their corresponding spiritual beings, and harness celestial light energetically, like during ceremonies aligned to the lunar phases, equinoxes, and solstices.  Rather than drag out your entire rock collection next moon to charge them, use a piece of Ocean Jasper as a "battery" for celestial light instead, gathering enough of a charge to renew everything.
Of all the celestial bodies Ocean Jasper® is most commonly affiliated with the Moon because of its unique relationship to the tides.  Lunar stones are given its qualities like change, growth, and understanding cycles, emotional harmony, and traits culturally attributed to the "feminine" like intuition.
Ocean Jasper® combines well with other lunar stones like moonstone, selenite, and girasol quartz.  Solar stones would include sunstone, citrine, and ruby.  Finally stones like lapis lazuli, labradorite, and meteorites and tektites are used to connect with star energies.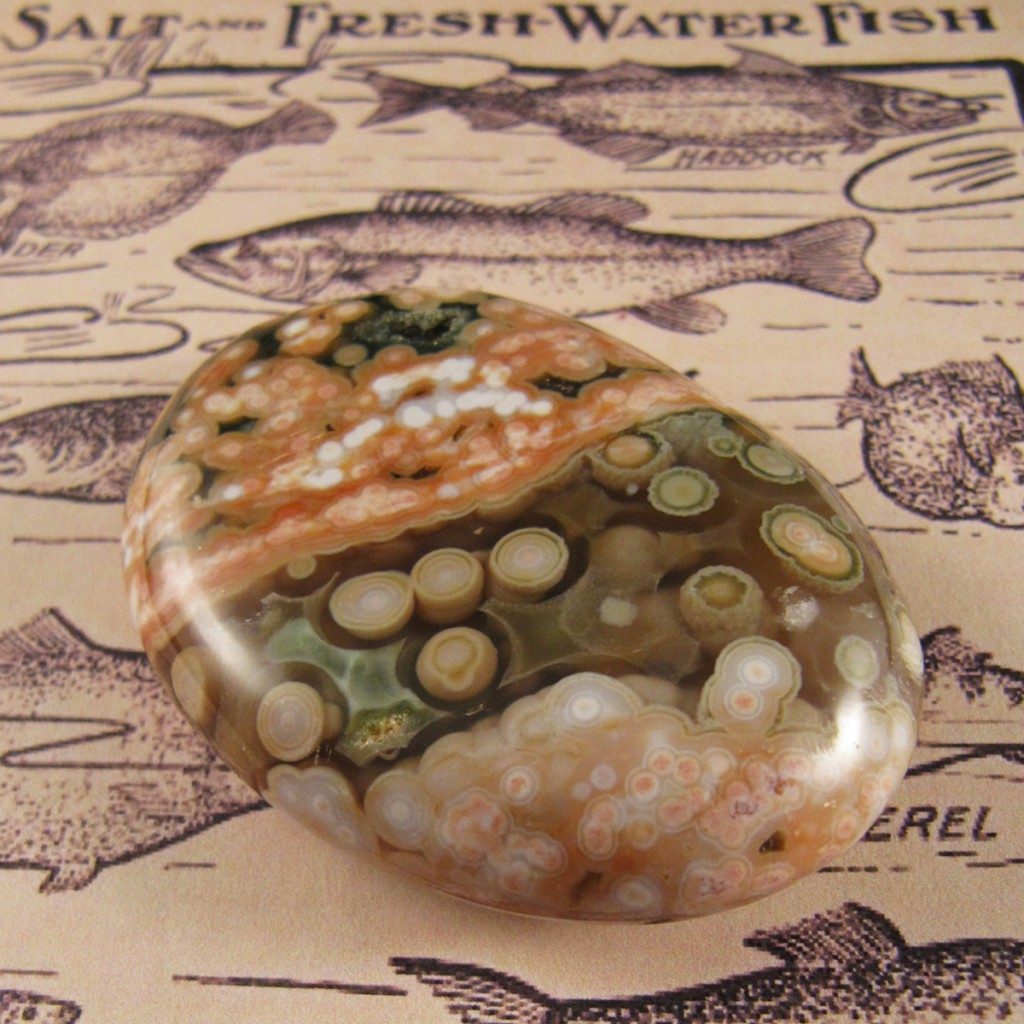 (An Ocean Jasper® pebble on a vintage cook book illustration.  One of Ocean Jasper's many trade names is Fish Eye Jasper.  The term "fish eye" is a nickname for translucent eye agates.)
6:  Fish Eye Jasper:  After the ocean, circle, and the Moon, the most relevant energy signature for Ocean Jasper® is its concentric orbs called "fish eyes", especially when they are translucent.
Ocular stones, those that look like eyes, have a consistent meaning over time:
Safety: Warding off the evil eye, security, and remaining unseen from enemies.
Prosperity: Good luck, seeing opportunities, and overcoming obstacles in business.
Second Sight: Clairvoyance, insight, and focus during meditation.
Many of its metaphysical properties are modern adaptations of this ancient gem lore.
The orbs in Ocean Jasper® can look like open eyes and the layers of the energy body.  It may also display fortification banding, an angular agate that resembles the outline of a fortress.  These elements suggest Ocean Jasper® may strengthen the aura, maintain personal boundaries, and help invoke spiritual protection.
Many cultures believe in the evil eye, a psychic attack powered by envy, anger, or jealousy.  Eye shaped amulets are used to counteract it, calling upon the protective gaze of God.  Many people today use Ocean Jasper® for emotionally charged situations, stress relief, and shielding empaths, after this custom.
Ocean Jasper® combines well with other protection stones like tiger's eye, malachite, and black tourmaline.
While the destructive evil eye is fueled by malice, a "good eyed" person wishes everyone well.  Paradoxically the eye also came to represent generosity, kindness, and goodwill.  Therefore ocular stones were used historically for good luck, business solutions, and managing resources like money.
Ocean Jasper® is typically green, yellow, and earth tones, especially the material from Kabamby.  These are significators of abundance stones, after the colors of growing plants, ripe grain, and rich soil.  Food was the original wealth.  Each individual orb also formed around a seed like center, with different layers of growth, suggesting manifestation, the genesis of new ideas, and acting to materialize our goals.
Ocean Jasper® combines well with other prosperity stones like citrine, green aventurine, and the cat's eye varieties of chrysoberyl, quartz, and tourmaline.
The eye is also a symbol of expanded awareness, like the third eye used to see beyond the physical.  Ocular stones were used historically to support psychic development, divination, and otherworldly vision like dreams, journeys, and precognition.
As a "fish eye", Ocean Jasper® helps us see into watery realms like the emotions, creativity, and spirituality.  Because the ocean represents the unknown, wisdom, and inspiration, stones with fish totem medicine connect us to our inner depths.  Ocean Jasper® may give us insight about a feeling, memory, or intuitive message, just as a fish eye lens brings the center of an image into focus.
Ocean Jasper® combines well with other intuitive stones like lapis lazuli, iolite, and azurite.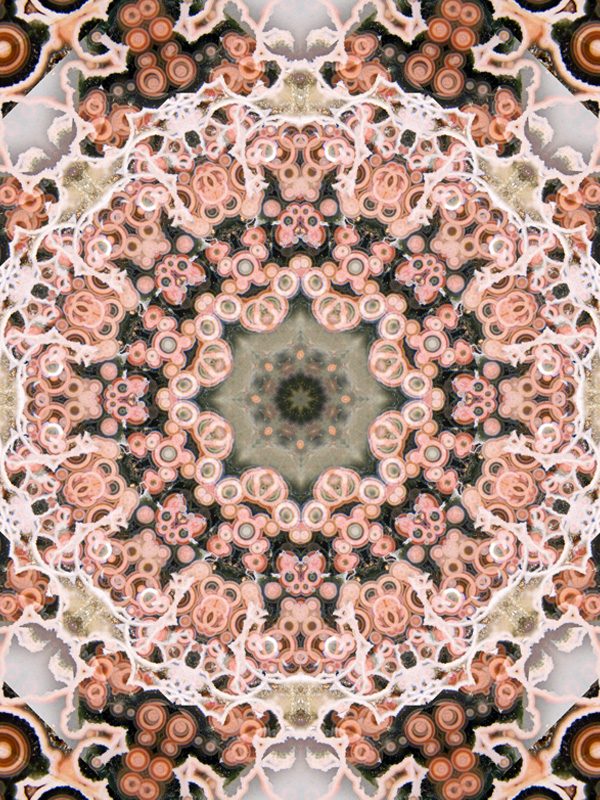 This photo mandala was created with the intention to help individuals connect to the energies of Ocean Jasper®, if in their highest good.  I hope that reading this article or meditating on the image helps you decide if Ocean Jasper is a vibration that you should be working with now.
Enter the Earth is a purveyor of fine minerals, rocks, and fossils from Madagascar and around the world.  To see the Ocean Jasper® we currently have available, please visit our online stores:
The Metaphysical Department of Enter the Earth
Enter the Earth Online Gallery
Enter the Earth eBay Store
Enter the Earth Etsy Store
Qualified wholesale buyers can visit our wholesale website to see our upcoming gem show schedule and apply for access to our online catalog.
This article is part of our ongoing "She Said, He Said" series, where both Stacie and I write about the same mineral.  We believe different perspectives can make a stone accessible to more people.  You can read Stacie's Ocean Jasper blog here.
Public Domain, Wikimedia Commons, God as Geometer

©2015, Microphotography of Ocean Jasper®, Becca Hahn

©2020 Christopher Lee Matthews, Enter the Earth.  See more interesting blog articles and amazing crystals and rocks at Enter the Earth.  Don't forget to follow us on Instagram!