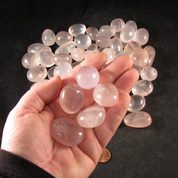 Rose Quartz: All Day, Every Day
Rose Quartz is my favorite stone.  I have often said that if I could live in a rose quartz house and sleep on a lepidolite bed, that I would be the most happy girl in the world. Rose quartz is, by far, my most recommended rock for anyone for anything at any time.  It is an ~All Day, Every Day~ kind of energy.  Why?  Because rose quartz holds the vibration of love (all forms!) and love does everything.  Think about it.  Love heals, protects, strengthens, nurtures, expands, grounds, cleanses, and endures.  So, it's as useful in the bedroom as it is in the nursery, as fantastic in the office as it is in the living room.  It's as powerful in manifesting the love of your life, as it is a career that you love.
I could literally put rose quartz in every single crystal stone grid, gem elixir, or medicine pouch I've ever made and it not change the theme because love makes everything stronger.  It also makes everything softer, sweeter, easier to take, and most importantly, easier to integrate.  What good is working with a smack-your-fanny, high vibrational stone, like moldavite, if you can't integrate the shifts?  For some reason I'm hearing the song from Mary Poppins, "Just a spoon full of sugar lets the medicine go down…"
Rose quartz is the beautiful voice of the Divine Feminine that cuddles you and says, "Darling, you got this. It's going to be okay." Rose quartz is all about keeping your heart open, clear, and connected.  If you can do that, there is nothing that you cannot accomplish given enough time.  I have often thought that if people, in general, just worked on their heart chakras, even if they ignored everything else, golly, what a lovely world it would be.  (I mean, can you be an jerk-off when you have an open heart?  Probably not.  But I digress.)
Let's talk about the color pink for a moment.  Pink is the union of red and white.  Red for the root chakra, life blood, passion, and the physical/material level.  White is for the crown chakra and beyond, purity, and the spiritual realm.  The root and the crown chakras meet at the heart.  That is why pink is also a heart chakra color alongside green. Pink symbolizes the union of the physical and spiritual worlds within you.  It strives to keeps you at the equilibrium you need to stay anchored in your heart space.
All pink stones will have something to do with love and the heart, something to do with comfort and care, and something about keeping the heart open and in alignment, but rose quartz is in the quartz family. Quartz can imprint and amplify energies and intentions.  That sounds useful, eh? Also, rose quartz is widely available and is pretty affordable as far as stones go. I say, spread that stuff everywhere.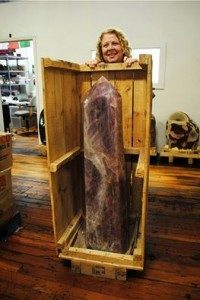 How to Work with Rose Quartz
Jewelry
One of the most simple ways to work with rose quartz is to keep it near  your heart center as much as possible.  A simple, but good size rose quartz pendant that hangs right over the heart center is perfect.  You can also put a nice smooth stone right in your bra if you wear one of those.  You can add intention to it and say, "I request to attune to rose quartz, now please."
Gem Elixir
I adore a nice gem elixir made out of rose quartz.  It's fantastic all by itself, or you can mix it up a bit and add energies from other rocks or flower essences.  I think it would be nice to have a pitcher of water in the fridge all the time with some beautiful rough chunks of rose quartz directly in the pitcher.  If you have a clean piece of rough rose quartz there is nothing there that is dangerous to have directly in your water.  Some stones have toxic materials in them that you cannot put directly into water you drink, but rose quartz isn't one of them.
The easy way to make a gem elixir is by "direct intention" method, which is pretty much how I roll these days.  Put the clean rose quartz in your glass with clean water and then put your hands around it and say, "I request to create a rose quartz gem elixir, now please."  You may find a small buzz or hum begin in your hands, the crest, and then conclude.  I then seal the energies by saying, "Bless, Optimize, Stabilize, Amplify, and Seal, now please."  It probably takes me 2-5 minutes to make a direct intention elixir.  There are other methods, but why complicate things?
Heart Breath
Never underestimate the potency of simply breathing deeply with your rocks as a way to interact with their energies.  One of the most powerful heart cleansing and empowering crystal healing protocols you can do is to flop a nice hunky piece of rose quartz onto your heart, then imagine breathing through it, into and out of  your whole chest region. Your imagery would include on the in-breath, bringing the breath into your body through the rock, as a beautiful pink glowing energy.  This glowing pink energy then locates emotional congestion and whatever doesn't belong there, surrounds it, and then on your out-breath, also through the rock,  moves it out of  your system.
Continue to do the breathing for about 5 minutes or so.  You may find yourself needing to cry, and if you do, fantastic… it means you did it perfectly.  You found a pocket of pain in your emotional body that was causing lack of flow in your system and then got rid of it.  That is always a good thing, even if it isn't so fun to cry.   You may just feel warm and cozy and very peaceful.  That's a good thing too.
I would so highly recommend this as an activity to do with children as well.  It would be so nice to do this as part of their going to sleep ritual.  You could even integrate it into bath time activities too, as a way to keep their heart "clean" too.  Imagine how wonderful it would be to give children the tools they can easily use to tend to their emotional landscapes.  Awww.  This topic is making me a little verclempt.
All Other Ways
Really, all other ways to work with stones would all be groovy with rose quartz.  A simple 7 stone Reiki grid with rose quartz is great for creating sacred space in the home.  Or you can get more complex and add it to a more involved sacred space grid for your home.  It all works out.  Really.  You can add it to any work you are doing  because all work is furthered and strengthened by the energy of love.  So unless you are Doctor Evil, I'm pretty sure you can use rose quartz quite liberally.  You should have a lot of it in your collection.  It's especially nice to give away, too.  Who doesn't love rose quartz?
Rose Quartz Plays Well With….
1) All other quartz: Amethyst, Citrine, Clear Quartz, Quartz with Inclusions, Green Earth Healing Quartz (Epidote included), Lemurian Seed Crystals (specialty quartz from Brazil), Sacred Heart Quartz (RQ with hematite inclusions), Herkimer Diamond (naturally double terminated quartz from Herkimer, NY), Tibetan Quartz, and so on!
2) Pink & Green Stones: This includes all stones that tickle the Heart Chakra in some way.  In no particular order, emeralds, danburite, morganite, mangano calcite, rhodochrosite, rhodonite, green & pink aventurine, pink tourmaline, pink sapphire/ruby, cobalto calcite, pink fluorite, umm.  That's all I can think of right now.
3) Any Combination: You can add rose quartz to compliment any theme based stone support collection because it adds the energy of love to any other venture.  If you are working on abundance, wouldn't adding love to that energy be helpful?  Especially if you are trying to create a career or opportunity that you love?   That is just an example, but really… unless you are being very naughty with your energy work (which I do not recommend)…rose quartz ads value to any intention set.
4) Cleansing and Purification stones: Since keeping the heart clear and free flowing is one of the biggest tasks for any of us, partnering rose quartz with purification stones becomes a significantly useful combo.  Himalayan salt is probably my favorite, but obsidian, kyanite, and selenite are also good choices.
5) Flower Essences: I often enjoy melding flower essences with gem elixirs for vibrational support.  Rose quartz was named after roses, so she does especially well to be added to flower essences that include the rose family.  So. very. sweet.  I have never met a flower essence that I didn't like or that didn't work well with combining with gem energy.  Some good resources included Bach's and FES.
©2020 Stacie Coller, Enter the Earth.  See more interesting blog articles and amazing crystals and rocks at Enter the Earth.  Don't forget to follow us on Instagram!