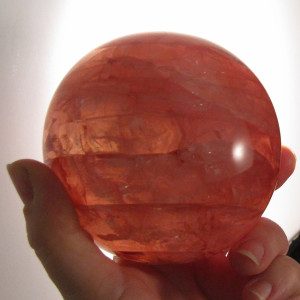 Hematoid rose quartz is pretty rare stuff from Madagascar.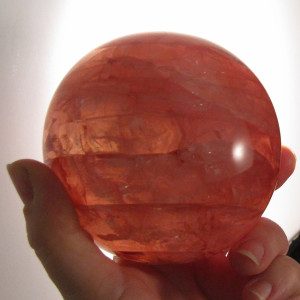 Sometimes it takes awhile to get back around to some of the raw readings that Christopher and I have done.  I just looked at my notes and the first pass at hematoid rose quartz was 3/28/13.  Dang, I hadn't even left my husband yet, but the situation was getting pretty intense.  At this point, more than a year has passed, I left my husband, spent a whole year in the separation process, lost a very dear friend to cancer, and am now officially divorced.  There was more, but I'll spare you.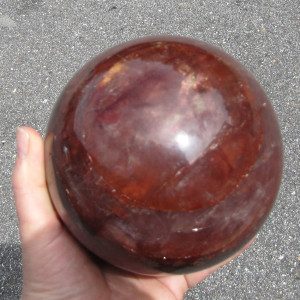 The year we first read Sacred Heart was a bad year for me.  Super bad.  Super effing bad with a can of "holy shit" poured over it.  Looking over my notes from March 2013, wow.  It's like the Universe knew or something. (And yes, I am saying that somewhat sarcastically, but with proper respect.)  2013 was the year of needing this kind of intercession for me.  Even Christopher needed it.  As soon as we finished the reading, his mother called to let him know his uncle had just passed.  Spooky rock.
Reflections from 2020:  I used Sacred Heart very liberally during my divorce years… in my pillow case, my pocket, used it in energy work, created gem elixirs with it, and have stuffed it in my bra on many occasions.  It was a constant companion from 2013 through 2016 or so.  My rough patch just rolled on for years and I did my best to do my work and come out a better version of myself when all was said and done.  Now that it's 2020, I can say that I fully needed this crystal energy for the crisis mode I surfed for years.  I haven't had to cozy up to it like a life-line in a couple of years now, but re-reading this article here reminded me just how valuable it was when I was in the disintegration process of my old life.  And truly, my life went through a total gut.  Nothing is the same and, thankfully, I did make it out on the other side alive and well, but… dude.  It was brisk.
There is something deeply feminine, and yet, also deeply kick ass about the combination of hematite and rose quartz.  Think Mother Mary (sweet, nurturing love and comfort) and Kali (destroyer of illusion and eater of demons).  Tough Love. Uh, yeah.  Bada bing, bada BOOM.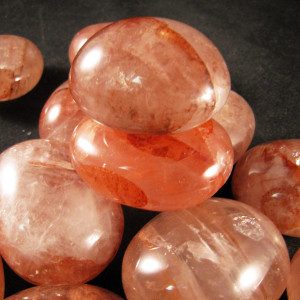 Sacred Heart Hematoid Rose Quartz is definitely a trauma care and crisis worker.  It's the stone you grab when you are having a bad day, week, month, or year.  I don't just mean  bad.  I mean super bad.
It's the stone you grab when you have a shit ton of personal work and transformation to slog through that is hairy, scary, painful, and that pushes you to the edge of being able to pass for sane.  It's the stone you grab when it hurts like hell and you are exhausted in the marrow of your bones, but you have to suck-it-up-and-deal anyway.
It is both the red hot fire of purification and transformation and the sweet aftercare and comfort needed to actually get through it alive.
There are a few key phrases from the reading that I want to share:
-Care for life's battles.
-Rectification of love and hate in the heart.
-Divine Feminine blood and womb mysteries.
-Intercession and assistance from the spiritual level.
-Brings Crown, Root, and Heart into alignment.
-Purification after trauma and during crisis.
-"Behold mirror of the soul, a balm to the wounded, heart of life blood, and an ear to the cries of the world."
It did actually name itself during the reading and it seemed quite fitting, so we didn't argue.  Our Mammas didn't raise no fools.
Useful Protocols:
-It would be fabulous to use this type of rose quartz in a Heart Breathing process.  To do that, hold it up to your heart or heart chakra and using your imagination, breathe as if through the rock and into your chest cavity.  The intention is to breathe back out anything not present in your Highest Good that is blocking up your heart or emotional body.  It has somewhat more purification energies.
-Nearness: When shit is actively hitting the fan, get as much Sacred Heart time in your auric field as you can muster.  I placed mine in my pillow case and often carried it around.
-Pocket Rock: There are some endurance and vitalizing properties to this rock.  I have it in my pocket today with a nice carnelian in the other pocket.  I wanted support for physical as well as spiritual energy today.
-Other Stuff: We grid with it, put it in elixirs, use it for offerings, use it when cramps are bad (that would be just me, Chris doesn't have a uterus), and that kind of thing.
-Global Lightwork/Transpersonal Prayer Work: You can work with this stone when you are doing work for others or praying for the world in general.
Sacred Heart Hematoid Rose Quartz.  I'd say it is good stuff for bad times.  I would partner it with lepidolite, mangano calcite, Blue Rose Quartz, or any stone that has something to do with deep emotional work, transition, or crisis care.
©2020 Stacie Coller, Enter the Earth.  See more interesting blog articles and amazing crystals and rocks at Enter the Earth.  Don't forget to follow us on Instagram!